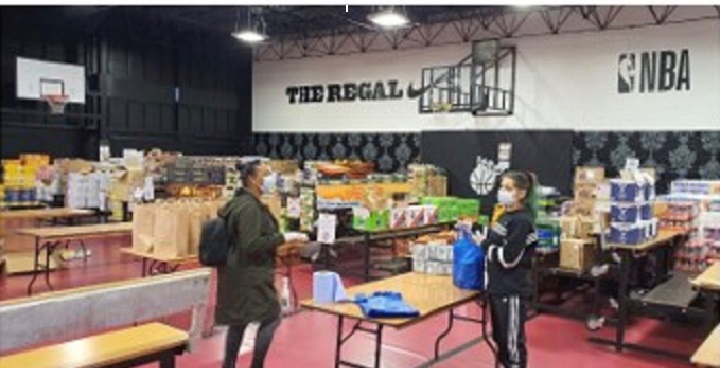 At the outbreak of the COVID-19 crisis the Lambeth response team put in place immediate actions to get care packages of essential home products and food to be distributed to an estimated 4000 households most in-need.
Community venues transformed 
Brixton Recreation Centre serves central and south Lambeth; the Black Prince Trust in Kennington serves the north. Both are community venues, the Rec a GLL leisure centre; the BPT Hub run by the Black Prince Trust charity. Healthy Living Platform and Brixton Peoples Kitchen manage food distribution at the Rec and BPT Hub respectively.
Delivery
Since early April the sites have delivered over 7,000 food packages to vulnerable Lambeth residents.  Lambeth Council and Brixton People's Kitchen have delivered over 1,000 food packages to 'shielded' people, on top of BPK's delivery groups. Volunteers sourced by Lambeth Council, the Red Cross, BPT, BPK and HLP assist in storage, picking/packing and distribution (partly by specially adapted bicycles).
Brixton Rec
The operation at Brixton Rec started at the end of March and receives literally tonnes of food every day.
Black Prince Trust
Work at the BPT Hub started in the first week of April, and the Hub was delivering food packages by 9 April.  Staff and volunteers spent a frantic few days preparing the site – covering and protecting the Regal and Jordan basketball courts to transform them into a storage, sorting and distribution centre. BPT worked with football partner Street Soccer London and on-site café operator BPK, to add the 'Hi Jean' service which provides free feminine hygiene products to locals who would usually get them from schools and youth clubs.
Thanks to volunteers and partners 
Lambeth Council would like to thank all Lambeth staff involved in this effort, key partners GLL, HLP, BPT and BPK plus all the volunteers involved at both sites, without whom this operation would simply not have been possible.  Wayne Chandai, Operational Lead, COVID-19 Relief Project, Lambeth Council said 'the creation of the two food distribution hubs in such a short period of time was an amazing achievement and demonstrated how the Council and its partners can work together so productively in these difficult times'.
More information
To date, the Council has provided information and/or assistance to over 16,000 people through the Helpline 020 7926 2999.