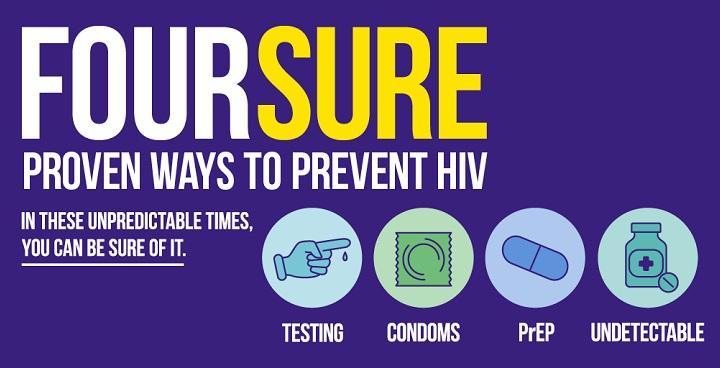 Even in this Covid-19 (Coronavirus) pandemic, HIV remains an important public health challenge, especially with 37% of new HIV diagnoses in 2019 being classified as late.
Four proven ways
London leads the UK in tackling HIV and Do it London's new 'four sure' campaign launches on World Aids Day. The campaign reminds Londoners that HIV is preventable, that an HIV diagnosis is treatable, and that treatment acts as prevention. The four sure ways of preventing HIV are:
Word from the Cabinet
Cllr Jim Dickson, Lambeth Council Cabinet Member for Health, said: "In these uncertain times, Lambeth shares Do it London's message: there are four sure ways to protect people. Despite financial pressures, Lambeth is determined to fund sexual health and HIV prevention to help maintain the downturn in new HIV infections."
Sense of confidence
The message 'four sure' reflects the confidence that Londoners can have that these four methods (also known as combination prevention) are effective, scientifically proven, free at the point of use to those who need it, and accessible.
Word from the Mayor of Lambeth
Cllr Philip Normal, Mayor of Lambeth said: "I am proud that today Lambeth still leads in the fight against HIV through our work as host borough for the London HIV Prevention Programme.  To end new cases by 2030  – which is scientifically possible –  government policy needs to be in place with a practical plan. Together we can end new cases of HIV. As ever, Lambeth will be at the forefront of better testing, treatment, PrEP provision and the fight to end HIV-stigma."
PrEP for Lambeth residents 
Access to PrEP is now available at local clinics. If you want to learn more about, or start PrEP, phone whichever one of the clinics below is closest to your home:
More information
 Visit Do It London's information pages to discover more information about each method of prevention, how to access them and for direct links to sexual health services. The website also contains a new section about safer sex during the Covid-19 social restrictions.