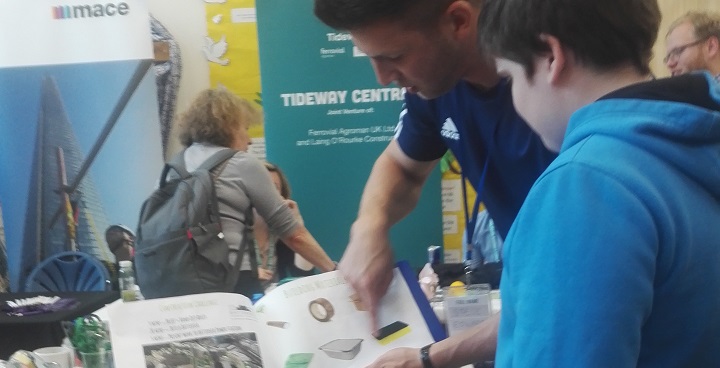 Big Local North Brixton promised job hunters 'A careers fair that's fun' in Angell Town. They challenged employers to offer something different  to people who are looking for a new career – something better than just talking heads across a desk. And the 'futures festival' was the result.
Bringing the fun
HSBC came with free 1:1 financial health checks and a quiz about identity fraud and keeping your bank details safe.
Gateway Training brought carpentry tools for people to have a go – and they definitely did!
Nando's came with spin the wheel, Barci the mascot, and free food.
All three (and plenty more) also came with job vacancies.
There was music and dance for the 180 young people and 177 adults who came to find out more… plus a fantastic support network for young people including community organisations, volunteers and youth workers.
New approach
The recruiters agreed that trying a new approach helped make a really successful recruitment event:
"We would like to confirm 13 referrals – 12 for construction and 1 for Training.  Two are women interested in construction  – a fantastic achievement bearing in mind we are only a small company wanting to make a big difference. We also made links with 7 potential partners moving forward." – Leroy Joseph, Managing Director, Gateway Professional Training
Making employers approachable
Job-hunters agreed the new style worked for them:
"The event was really interactive, unlike other events I attended before, there was a variety of stalls from community projects, employment opportunities and volunteering. The food element also added an extra flair to the event, the volunteers interacted in an enthusiastic  manner made the whole event run smoothly. Personally I got in contact with many local charities and projects, found it a good event to network, some organisations got back to me from that event and hopefully we will work on something in the future". – Israel Aguirre-Taipe, apprentice
---
For more information
Big Local North Brixton will be planning more jobs events in 2018. Big Local North Brixton is one of the 150 areas in England funded with Big Lottery money to help local people make their environment a better place to live and work. This is a long term programme running over a period of 10 years. For details of their projects and funding see their 'about us' pages.