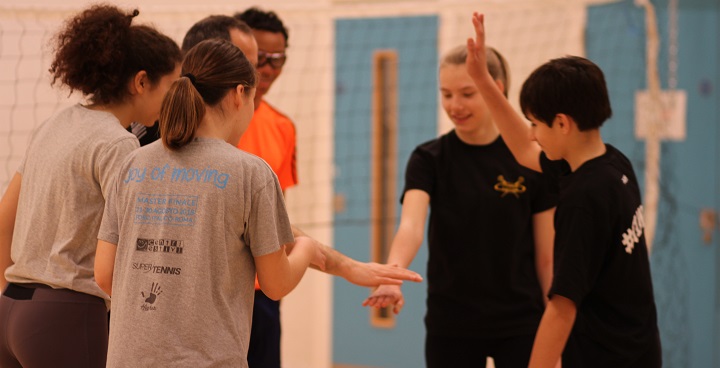 Five primary schools in Lambeth  have asked Little Giants Volleyball Club to run taster sessions for them during June – and they'd be happy to hear from more schools about adding volleyball to young people's exercise choices.
Coaching for success
Macaulay Primary School, Jessops Primary School, Glenbrook Primary School, St Stephen CoE Primary School and Wyvil Primary School will each get an hour's coaching once a week. The coach will be Orhan Çolak, one of Little Giants' level 2 coaches. He has coached Giants women's second team during the season just ended – the team won their division in its first year. He's also coached London boys under 15s team to win regional championships gold at the end of May in Leicester. He gives up his Saturday and Sunday mornings to coach Little Giants' youngest players.
Mini-tournament
Çisel Ormancı, General Secretary of Little Giants, plans a mini tournament between the five schools at the end of June in the company of the Mayor of Lambeth. She said: "I hope this endeavour will build into larger numbers being involved in our sport in Lambeth. Maybe it is not yet boom time for volleyball, but it is encouraging to report significant interest from primary schools in the introduction of volleyball as an activity in primary school activities.
London-wide interest in volleyball
"Interest in volleyball in London has recently been boosted by the successful staging of the CEV (Confédération Européenne de Volleyball) in East London. Coaches are always sad to see teenaged volleyball players leave and go to college, but coaches who start players on the road to volleyball may have a chance of hearing a leading player say years later "You introduced me to volleyball!" – this is exactly what happened at the CEV. Getting volleyball into more local primary schools in the autumn would give more coaches a chance of that experience!"
For more information about Little Giants Volleyball in Lambeth