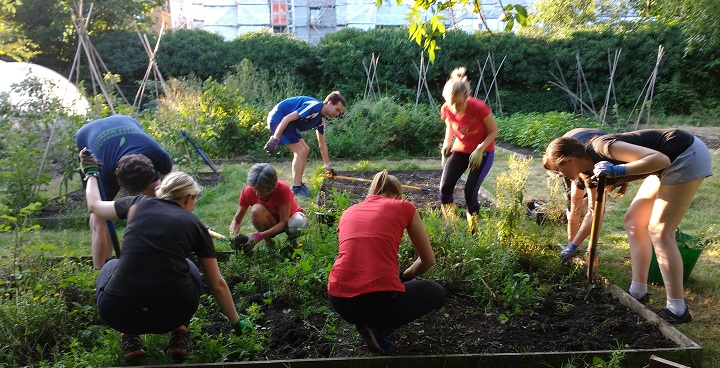 The GoodGym idea originally came from Ivo, our founder, who wanted to get fitter but felt that all the energy just gets wasted on gym machines. Instead he went to see his elderly neighbour and went for a run to the shop to get him a paper. After a few times, his neighbour encouraged him to go further – get fitter, and do more good.
Coach runs
We pair individual runners with isolated older people. We call them our Coaches, as they motivate us to go for a weekly run. In exchange, we provide conversation and a link to the outside world, something many older people miss.
Group runs
We also do weekly group runs where we run to help local community projects, and run back all within 90 minutes.
Squad goals
One task is with Vauxhall Food Bank – about 25 to 35 of us run there and sort out a ton and a half of food in 20 minutes. People are amazed how much we get done. Another is with the Lambeth GP Food Co-op. We wheelbarrow in tons of soil for big planters in doctors surgeries, ready for other people to do the enjoyable bit of planting things.
Future good
We've got more projects on our 'to do' list from recommendations – we just cleared an allotment for a young people's supported housing scheme near Camberwell and we'd love to work with more community partnerships.
Your running goals
Our Lambeth group consists of seasoned marathon runners to absolute beginners with an age range from 20-something to 50-something. There's a range of run lengths and we never leave anyone behind. Wherever you run, you feel like you're making a real difference. With a qualified UK Athletics coach in charge, whatever your running goal, we'll support you to achieve it.
---
Find out more
To find out more about the group and coach runs, you can visit our GoodGym Lambeth information page and sign up. We always love to see new faces.
If you are a Lambeth organisation who'd like Lambeth GoodGym to run your way, please email Katie: Katie@goodgym.org.