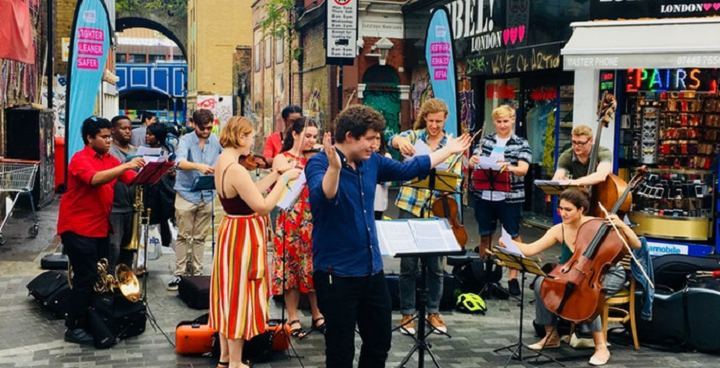 Brixton Chamber Orchestra will team up with local MCs to deliver a Grime-Classical fusion show at Brixton's Prince of Wales club on 22 March..
Shared skills
"Classical and grime are both driven, forceful, inventive and display a virtuosic level of skill. Orchestral instruments feature in loads of well-known grime beats but are rarely performed live, so this is a natural collaboration", says Matthew O'Keeffe, Lambeth native and Music Director of BCO.
A live night
The Orchestra will perform with popular grime artists, including Gen, Terra the Kid, Taliifah and young collective Mob Set. Terra said 'I'm excited to perform with a live orchestra, it's something I've never done – and in my hometown of Brixton it's definitely going to be a lively night!' Gen, whose new single Nottingham Trent has gained much critical acclaim, said he's looking forward to rapping over powerful samples from classical music.
Grime orchestrated
Brixton Chamber Orchestra will lend a 30-piece ensemble to the artists' songs and play orchestral  covers of classic grime beats from the last decade, as well as sampling classical music – from Stravinsky & Shostakovich to Bartok & Beethoven – to produce new sounds for this exciting collaboration. "We're supporting a home-grown genre which is often unfairly maligned and written off."
For more information
Tickets via Eventbrite 22March, POW Brixton
Doors 8pm, Live performances 9-12, DJ's till 3am playing the best of UK Rap.
MC's: Gen, Terra, Taliifah, Squintz, Special Guest tba/ With Brixton Chamber Orchestra, directed by Matthew O'Keeffe
Brixton Chamber Orchestra
BCO is a group of young professional instrumentalists from Brixton. Since they launched in the Summer of 2018, they have been dedicated to engaging with the different musical cultures of Brixton: they played calypso in the summer, disco at Electric Brixton in October, and teamed up with Brixton SDA Gospel Choir in November. As well as being musically innovative, the orchestra sees performances such as this as a way to pull listeners toward orchestral repertoire.