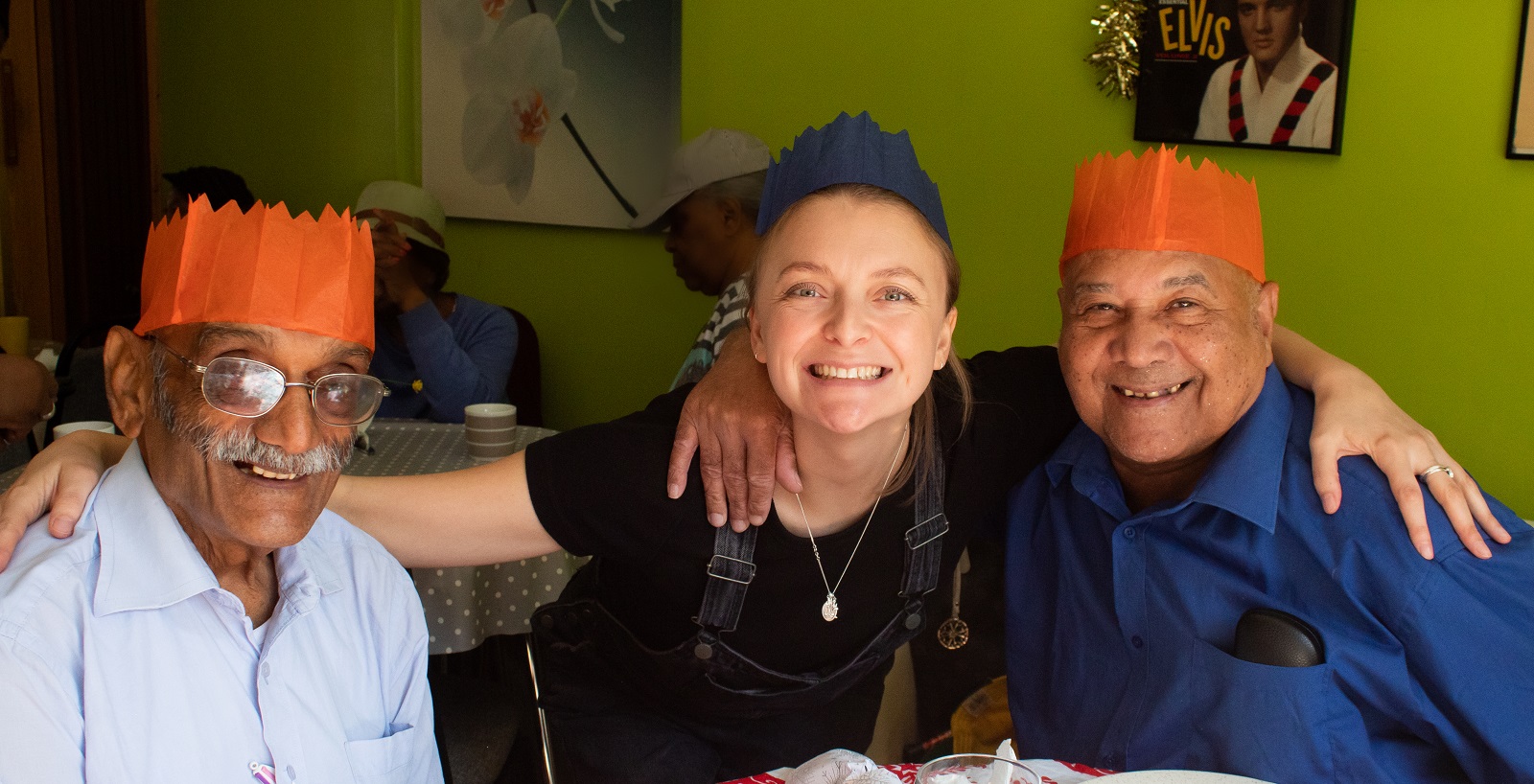 Age UK Lambeth are launching their Christmas campaign by asking the community for support in making Christmas special for local older people.
80 Christmas Day meals
The festive season can heighten feelings of isolation, so we'll open on Christmas Day to serve dinner to 40 people who would otherwise be alone. We'll deliver another 40 meals to those who can't, or don't want to, come out.
Looking forward to Christmas
Jacquie has attended the Age UK Lambeth Christmas lunch for the last 3 years. She says: "Mum loved Christmas and I used to love cooking, but after she died I used to spend it on my own, usually eating cheese on toast – but now I actually look forward to Christmas again. I get to speak to people, some people that I go to T'ai Chi with go, and the volunteers are amazing. Last year one gave me a homemade lavender bag and I still have it hanging on my door. I'm already really looking forward to this year's dinner."
Your support
It costs us £14 to provide each dinner and your support could make all the difference to an older person in Lambeth this Christmas. We also run events between Christmas and New Year) as this can be a very quiet and isolating time for those without friends and family nearby.
More information
Making a donation

You can make a donation online
Text 'LAMBETHXMAS' to 70085 to donate £14. (plus cost of standard rate message)
You text any amount (in whole numbers) up to £20 on LAMBETHXMAS 5.
To arrange a donation by cheque or cash please call 020 7346 6800.

If you know someone who'll be alone this Christmas, please complete our online referral form. Make sure you seek their permission first!
To volunteer on Christmas Day (or any time of year) see our pages
Any money not spent on Christmas Day lunches will go to our MYsocial service. Last year saw 10,000 people attend MYsocial events. We challenge perceptions of ageing with a programme that doesn't pander to stereoptypes of older people's interests. We have picnics, reggae nights, trips to bars and Zumba, computer club and seated exercise classes. All events have a host, meaning everyone knows someone when they arrive.
Guest author: Jess Jarvis, AgeUK Lambeth