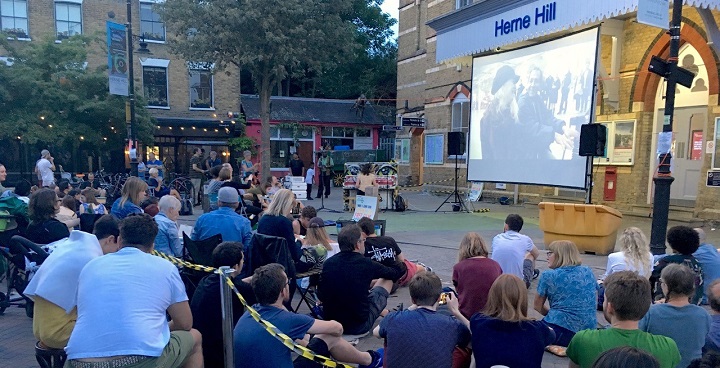 Herne Hill Free Film Festival returns in May for a seventh year with a mix of huge hits from the last 12 months, screenings with a local connection, classics and new classics.
Charity partner
At each film the Festival will be partnering with the Maudsley Charity, to promote positive change in the world of mental health.
Feature presentation
The festival opens on 2 May upstairs at Herne Hill Station with Oscar-winning superhero Black Panther and closes 1 June, outside Herne Hill Station with a hilarious Laurel and Hardy double-bill with live piano played by local legend Neil Brand.
Site-specific screenings
In between there's Italian classic Bicycle Thieves at the Velodrome, Sci-fi scarer A Quiet Place at Brockwell Lido and Wes Anderson's joyous stop-motion  Isle of Dogs in Brockwell Park.
Short film challenge
The festival is for film makers as well: For the seventh year Short Film Night returns to The Prince Regent, while the 48 Hour Film Challenge encourages first-time directors to call the shots over the bank holiday weekend. The festival hosts Mind MaRers, a short film night themed around  mental health.
Documentaries
Being Frank: The Chris Sievey Story about comedian/musician  Frank Sidebobom, American Animals with local director Bart Layton, the poignant Chasing Coral, surprise box office hit The Ponds at The Lido Café, and Patrick Keiller's classic London to commemorate London History Day.
Crowd-pleasers
These include horror The Babadook, Chilean biographical drama Neruda,  1920s silent French epic The Passion of Joan of Arc and 1970s cult sci-fi  Silent Running.
Films for Herne Hill's youngest
These include Oscar-winning Spider-man: Into the Spider-verse, Oscar-nominated Ralph Breaks the Internet and Mary Poppins Returns!
For more information
Dates: 2nd May to 1st June 2019
Venues: Various locations around Herne Hill, SE24
Price: All events are free; no booking is required, but many venues are indoors and have limited capacity
For full details including all dates, times and locations, visit the festival information pages
Follow Herne Hill Free Film Festival on Facebook Herne Hill Free Film Festival and Twitter @HerneHillFilm