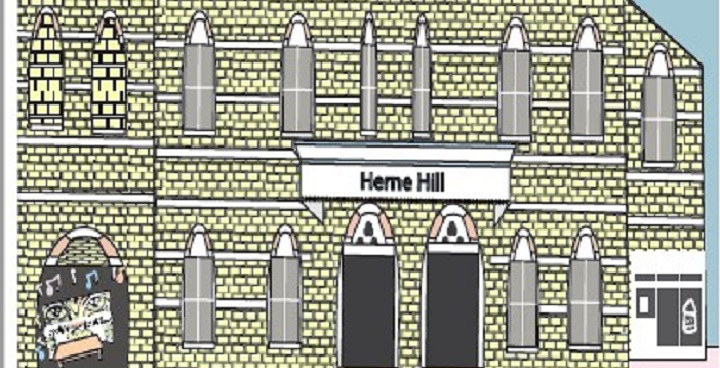 Children from eight Herne Hill schools will come to Station Square on Wednesday 12 September with paint pens to colour in the 40-metre underpass mural. It's full steam ahead to get Herne Hill into the Guinness Book of Records for the most contributions ever to a colour-by-numbers painting. The current record went up just last this week from under 500 to 1119. We're expecting an average of 100 painters from each school so we want 400 grown-ups to make sure we get 1200 people.
"We made this"
Herne Hill Forum commissioned local artist Victor Szepessy to design the mural, incorporating Herne Hill's key people, places, fables and myths. "The idea of a massive community colouring-in came from the Brockwell Passage mural. As I was painting the outline, local kids started running up and asking if they could colour in. After it was finished we saw kids going by with their parents, pointing and saying 'I made that.' I hope it gives everyone involved a sense of connection to and pride in their area, and experience what we're capable of when we all work together in divided times."
Adult help needed
Adult volunteers and passers-by can help do any sections unfinished when the 3pm school bell rings. "But we really, really need adult volunteers for essential jobs throughout the day like witnessing the action so that we can verify the World Record, keeping paint supplies topped up, getting the children off mini-buses and registered, taking completed panels to the drying area, videoing and photographing the action, and making Town Crier announcements about the time and how many metres need to still be coloured in", says Lucy Reynolds, Herne Hill Forum Project Manager.
The bigger picture
"The idea was to give the children a day they'll remember all their lives, and a focal point where people can understand the history of where they live," explained Lucy.
---
For more information
Volunteer to help get Herne Hill into the Guinness Book of Records on September 12, contact Lucy Reynolds
Volunteer for painting from 4pm to 8pm via Eventbrite 
The schools involved are: Jessop, Michael Tippett, Herne Hill School, St Jude's, St Saviour's, Turney, Rosendale and Judith Kerr.
The record breaking attempt has funding, resources and support from Aviva, Southeastern, Network Rail, Lambeth Council and local businesses.
Herne Hill Forum is a volunteer-led community group of local residents and traders, who work together to make Herne Hill amazing, independent and unique. See our information pages