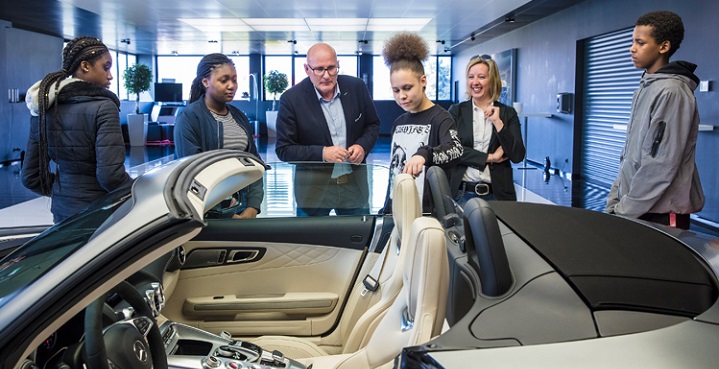 Last summer, a group of senior leaders from Daimler Mercedes visited High Trees in Tulse Hill to learn more about the work that the charity does across Lambeth, and to see how the challenges that the charity faces relate to those in their fast-changing, multinational company. Inspired by the work they saw, Daimler Mercedes offered to fund and host a trip for some of the young people that High Trees works with.
The group comprised of 11 children who attend local schools and access High Trees services – from homework clubs to youth nights to youth mentoring and coaching. The children, aged 11 to 16 years, were selected for demonstrating leadership, showing initiative and inspiring others.
Day one started with a flight to Stuttgart, Germany and on to Affalterbach to tour the AMG-Mercedes Factory and to view the brand new AMG Roadster  pre-launch. The group met the CEO, Tobias Moers.  Later the group dined with Nico Bastian, the Official AMG-Mercedes factory driver, who demonstrated the shortest route around the go-kart track, before the kids and staff joined in.  On the second day, the group visited the Mercedes Benz museum and went on a geocaching tour of Stuttgart – a modern day scavenger hunt, finding the "treasures" in the centre of Stuttgart with the help of GPS devices.
A life-changing experience
Margaret Pierre, Director of High Trees, said: "Everyone at High Trees is so grateful to Daimler Mercedes.  It was wonderful to hear that they were so inspired by the work we do that they instantly wanted to give something back.
"The children had an incredible time and the trip expanded their horizons in a way we couldn't have achieved without the generous support of Daimler – it will be something they will remember for the rest of their lives. It may even be life-changing for some."