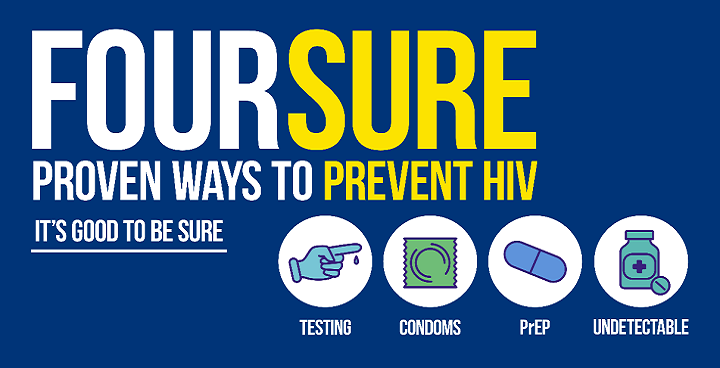 World AIDS Day is an important date in the sexual health calendar to raise awareness about the work being done towards meeting the Government goal of zero new HIV diagnoses by 2030. It's also a chance to work on ending the stigma that people needing treatment face, and to share the message about being an HIV ally all year.
It is an opportunity for people worldwide to show their support for people living with HIV, to commemorate and remember people who have died and to unite in the continued fight against HIV infection and stigma.
Four sure
The Lambeth-led, London-wide, Do It London Be Sure: Know the Four campaign highlighting four known, easy to access ways to prevent HIV, has been running in London since October across multimedia platforms to ensure that as many people as possible can learn about the proven methods of HIV prevention.It delivers what the community asked for last year – more detail about how HIV testing, condom use, PrEP, and U=U) work.
PREP and prevention
Do it London is also promoting PREP Awareness week from 28 November to 4 December. PREP is a freely available medicine that can prevent the risk of infection through sex – but HIV testing is essential before getting a prescription. The UK Health Security Agency (UKHSA) endorse combination prevention as the best strategy to prevent HIV. But late diagnoses mean patients are late to start treatment – so more testing is vital.
Why World AIDS Day?
At least 35% of over 100,000 people living with HIV in the UK are in London. Yet a National AIDS Trust Survey found:
 5% people think HIV can be caught through kissing.
Only 16% know that effective treatment HIV treatment means someone can't pass HIV on and can expect to live a long and healthy life.
63% of people do not remember seeing any messages about HIV testing or prevention.
We have the chance to end AIDS – World Aids Day is the time to share the messages about making that happen, and to support fundraising for work to go on.
World AIDS Day events
Thursday 1 December: Aymara support World Aids Day with the Lambeth Latin community by promoting HIV testing with leaflets and posters in English and Spanish
Local health providers PREP awareness event at G-A-Y bar (Soho) including HIV Testing.
Friday 2 December Lambeth health provider partner Metro launch the free UK AIDS Memorial Quilt exhibition at WoolwichWorks, Free tickets via Eventbrite
Saturday 3 December in Vauxhall Eagle London & RVT team up for A World AIDS Day Fundraiser