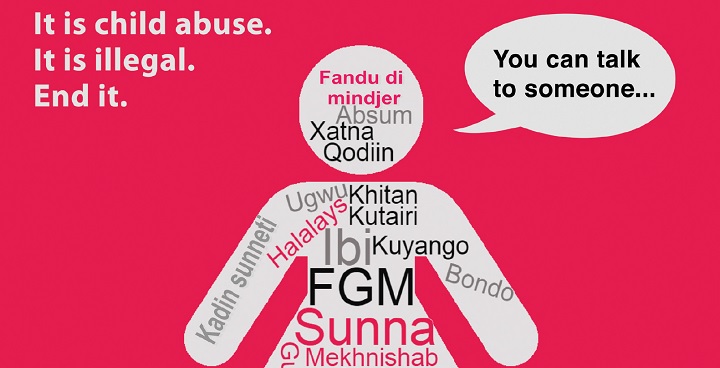 We encourage Lambeth children, caregivers, professionals and the public to talk to someone if they suspect there is a plan for a girl to undergo FGM. FGM is also known as female circumcision, cutting, sunna, ibi, bondo or tahoor.
FGM, female circumcision or 'cutting' may cause serious health and emotional consequences that last a lifetime.
FGM is illegal under UK law – whether it happens in the UK, or a UK resident is taken abroad to be cut. It is also a crime if you fail to protect a girl under 16 from FGM. Anyone found guilty of the offence faces a maximum penalty of 14 years in prison.
Signs that a girl might be at risk of FGM:
Her family belongs to a community in which FGM is practised and they are making preparations to take her on a prolonged holiday or planning absence from school
She or someone she knows may talk about her being taken "home" for a special visit:

a party is being held in her honour,
she is going to 'become a woman' or 'get ready for marriage' or
a special procedure or ceremony is going to take place

She may say a female family elder is coming especially to see her
What you can do
If you are concerned about yourself, someone else or if you are a parent who feels pressured:
If the risk is immediate, call 999.
Call the free 24 hour FGM helpline anonymously on 0800 028 3550 or email fgmhelp@nspcc.org.uk for advice, support or to report a concern (NSPCC)
Call the local Gaia Centre on 020 7733 8724 or email lambethvawg@refuge.org.uk for help, this is a Lambeth service that supports girls and women who experience gender-based violence such as FGM.
Carry an 'FGM passport' with you, especially when you go abroad. It is a statement opposing FGM available in several languages. You can show it to your family, it makes it clear that FGM is a serious criminal offence in the UK.
Make a referral to Children's Social Care on 020 7926 3100; if you are a professional please fill in the Multi-Agency Referral Form (MARF) and forward it to dutymanager@lambeth.gov.uk.
Find out more