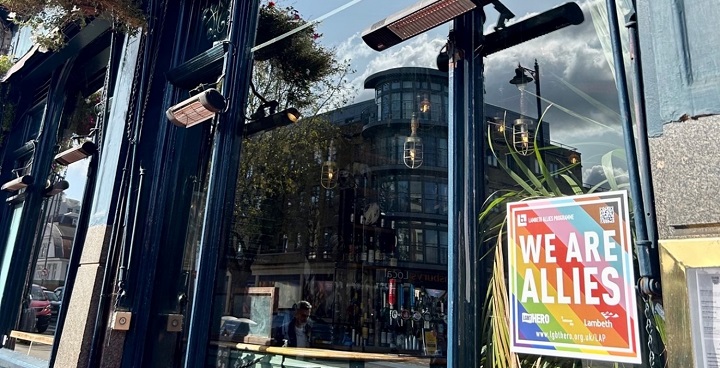 Lambeth Council and health campaigning charity LGBT HERO are piloting Lambeth Allies, a new LGBTQ+ safety and awareness scheme for businesses and local partners in Vauxhall and Clapham.
The scheme offers LGBTQ+ awareness training and provides practical advice for organisations to become more inclusive, for example how to report hate crimes to the authorities or charities like Galop. Participants will sign a code of conduct committing to challenge discrimination and to celebrate all LGBTQ+ identities.
Participating organisations will receive display materials indicating they are a safe space for LGBTQ+ people and will be encouraged to provide space for LGBTQ+ support information such as health leaflets and posters.
Word from the Cabinet
Cllr Mahamed Hashi, Lambeth Cabinet Member for Safer Communities, said: "There is no tolerance for hatred of any kind in our borough. Following the homophobic attack outside the Two Brewers Pub in Clapham this summer, programmes like Lambeth Allies are more important than ever, and Lambeth is proud to be working with local partners to make the borough a safer and more inclusive place for our LGBTQ+ community."
Cllr Jim Dickson, Lambeth's Cabinet Member for Healthier Communities, said: "since 2018 Lambeth has been working with local LGBTQ+ partners to deliver a collaborative whole systems approach to tackle LGBTQ+ health inequalities. Lambeth Allies has been co-developed as part of this ongoing work to address the health and wellbeing concerns of our LGBTQ+ community by improving safety, inclusion and access to a range of local spaces to socialize and keep well."
My LGBTQ+ Lambeth Survey 2022
Lambeth Allies is inspired by insights into the health and wellbeing of Lambeth's LGBTQ+ community gathered from Lambeth Council and LGBT HERO's 2022 'My LGBTQ+ Lambeth Survey'.
Lambeth has one of the largest LGBTQ+ populations in the UK. However, the survey found that one in five worry about their safety, and as many experienced an anti-LGBTQ+ hate crime in the past twelve months.
Respondents also said they want better and more inclusive access to a greater range of spaces that offer alcohol-free, sporting, cultural and social activities.
Lambeth Allies launched in September 2023 with 25 partners including the Black Prince Trust, Street Soccer London, Fight 4 Change, Better Leisure Vauxhall, VauxWall West, The Pilgrim Pub and The Railway Tavern already signed up to become safer and more inclusive spaces.
Tackling discrimination 
Ian Howley, Chief Executive of LGBT HERO said, "After seeing the survey results it was important to us to tackle anti-LGBTQ+ hate crime and discrimination and increase the number of spaces LGBTQ+ people can access and be themselves. It's important for Lambeth to lead the way in creating a safer community."
Vauxhall Night Time Enterprise Zone
The Lambeth Allies programme also supports VauxhAll Night, Vauxhall's Night Time Enterprise Zone, to grow activity, safety and inclusivity in the area after dark.
More information