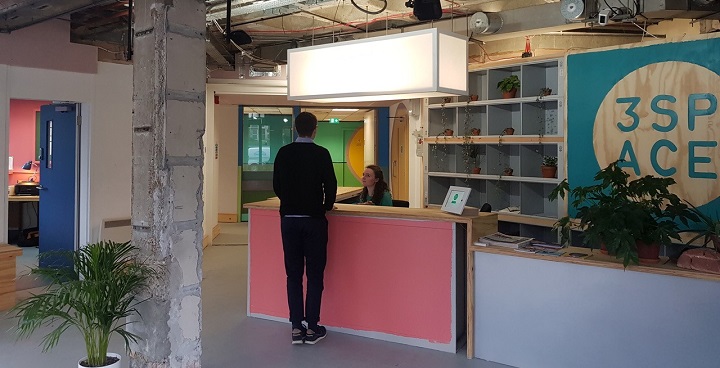 The 11-storey block is owned by Lambeth Council and run by 3Space. The former council office re-opened in 2018 as one of London's biggest affordable co-working buildings for new and growing businesses, social enterprises and charities, with a focus on design, creativity and innovation. It will support 850 jobs when fully occupied.
Tenants of the building include George Clark's Amazing Spaces, Turner Prize winners Assemble – who are set to open The Fabric Floor dedicated to textile and fashion entrepreneurship  – and one floor of the block is dedicated to community and not-for-profit organisations, who have the space rent free.
To be recognised as a Living Wage Building, the building manager must include a clause within its tenancy agreement stating that any businesses located in the building are obliged to pay at least the Living Wage to their employees and contractors.
International House is the first Living Wage Building to meet the criteria as part of the Living Wage Foundation's Living Wage Places scheme.
'Ambitious'
Cllr Matthew Bennett, Cabinet Member for Planning, Investment and New Homes, said: "This is now one of London's biggest affordable workspaces, and being named as the UK's first Living Wage Building really cements the significance of this project.
"We have a really ambitious programme of delivering more affordable workspace and creating more high-quality jobs for local people. We hope this will be the first of many accredited Living Wage Buildings in the borough."
Former council offices
Until early 2018 International House was used by around 600 council staff who mainly worked in Lambeth Council's Children and Young People's Services. As part of the council's rationalisation of its office buildings from 14 to two to save £4.5m a year, these staff have recently moved into the refurbished Lambeth Town Hall and new Civic Centre on Brixton Hill.
Katherine Chapman, Director of the Living Wage Foundation, said: "We're delighted to see International House become the country's first Living Wage Building. Lambeth Council has shown real leadership in asking businesses based within its buildings to pay the London Living Wage.
"We know the huge impact that supportive local authorities like Lambeth can have in driving Living Wage take-up. Across the UK many councils are now not only accrediting as Living Wage employers but also using their convening power to help spread Living Wage accreditation through local businesses and supply chains."
resi.co.uk
Resi.co.uk, who occupy the fourth floor of International House, work to help people improve their homes by offering architectural and design support.
Alex Depledge, 38, the Chief Executive Officer of resi.co.uk, said: "We pay all 56 of our staff the London Living Wage as a minimum. Paying the rate is a core principle for this company, so it's great to be in a building where everyone shares that.
"We have lots of architects employed here, 22 so far, and are hiring ten more. Being in this building has been a real plus as it is helping us attract potential employees who have heard about what's going on here, as well as the quality of the space.
"I live locally, in Brixton, and feel that working locally improves your wellbeing. That was part of the motivation for coming to this building. We have been able to put our own stamp on the space and enjoy working with the community and not-for-profit organisations who are also here."
Affordable workspaces
Lambeth Council is also rolling out new co-working buildings across the borough, all of which specify that tenants pay the London Living Wage to employees and contractors. The council is also offering a business rate discount for businesses that commit to paying the London Living Wage.
Lambeth now has six affordable workspaces in the borough, with more in the pipeline, supporting over 300 business and creating more than 200 new jobs to date. They are as follows:
Tripod: located in Lambeth Town Hall in the heart of Brixton, Tripod provides space, events and connections for creative, tech and social businesses.
Pop Brixton: on the site of a former council car park in Brixton, Pop is a community project, event venue and the home of independent retailers, restaurants, street food start-ups and social enterprises.
International House
Granby Space: a temporary space in Lower Marsh, Waterloo, supporting local start-ups and growing independent enterprises. Spaces are let on affordable rates of between 50-80 per cent of market value.
Build Studios: a co-working space, five minutes' walk from Waterloo station, specifically for the built environment sector.
Health Foundry: located opposite St Thomas' Hospital in Waterloo, it provides a supportive environment for digital health start-ups including a community of over 190 members, and a team which facilitates connections across the healthcare system.
LJ Works: currently being built on council-owned land, LJ Works will include low-cost co-working kitchen facilities, along with studios, workshops and shared textile workspaces. It will also continue to be home to the Loughborough Farm food growing project.