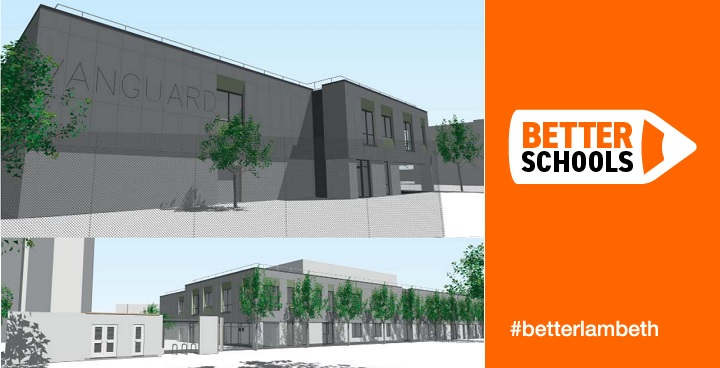 Members of the council's Planning Applications Committee (PAC) conditionally approved the proposal to build a new Special Educational Needs (SEN) school, including community use facilities, on a site at Lollard Street, in Kennington.
The council had already agreed to sell the site to the Education Funding Agency to enable the "NAS Vanguard School" to go ahead. The new school, which will be run by the NAS Academies Trust, will eventually cater for 78 students aged 11-19, who are on the autism spectrum.
At a PAC meeting on Tuesday 19 September, councillors gave the scheme permission, subject to the agreement of planning conditions and obligations.
At the same meeting, councillors also conditionally approved ambitious plans to redevelop Allen Edwards Primary School. The school is one of 260 across the country that will benefit from the £4.4 billion Priority School Building Programme (PSBP), which addresses the needs of the schools that are most in need of urgent repair.
The Allen Edwards scheme will see the replacement of the existing main school building and caretakers lodge with a new building, which will also allow for a bigger playground.
Lambeth Council worked with the National Autistic Society (NAS) to identify a suitable location for the Vanguard School, and the Government subsequently approved the Lollard Street site for use as a free school.
Councillors have already pledged to ensure that the facilities at the new school would be available for the use of the local community. The PAC report stated that the planning application included proposals for "community use facilities including a shared hall, kitchen, storage and breakout areas and other spaces which will be used by the community under a Community Use Management Plan".
The NAS Vanguard School, spearheaded by local parents, is a response to the shortage of Special Educational Needs (SEN) places in Lambeth, which has forced many children and young people to attend schools outside the borough.
The NAS Vanguard School will form part of the Council's plans to increase the number of places for SEN pupils within the borough, although parents of children and young people on the autism spectrum from neighbouring boroughs will also be welcome to apply.
In response to a SEN Review in 2012, the Council has also been developing 105 additional SEN places in mainstream schools and academies, and 45 ASD places in primary schools.
The changes will save the taxpayer money by ensuring that children on the spectrum don't have to travel outside the borough to get the right education. However, the Council has made a commitment that no pupil will be moved from their current placement unless they and/or their family want to switch.
---

See how you can get involved to help us create a Better Lambeth for everyone, through our key campaigns:
Read the latest Better schools news.