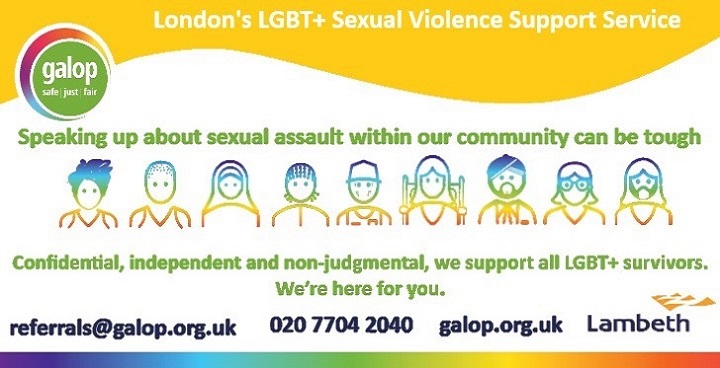 UK statistics show
18% of LGBT+ young people have experienced sexual violence
Bisexual women are 5 times more likely to experience sexual violence in an intimate relationship than heterosexual women
47% of trans people experience sexual violence within domestic abuse
Furthermore LGBTQ+ survivors of sexual violence are less likely to report crimes to police or ask for help from mainstream support services.
Trusted since 1982
LGBTQ+ anti-violence charity Galop have supported Londoners since 1982. Now Galop's important work with those affected by hate crime, domestic abuse and sexual violence has been recognised by the Mayor's Office of Policing and Crime (MOPAC) who have funded them to lead a new project with SurvivorsUK and the Havens, offering more support for LGBTQ+ and male survivors of sexual violence and to raise awareness about the issue in the capital.
Listening
However or whenever it happened, if you have experienced sexual abuse and identify as LGBTQ+ Galop can offer you a calm listening ear from a service that understands LGBTQ+ lives, lifestyles and identities. Galop offers practical and emotional support to increase safety and improve wellbeing. They can also help you to report crime, if and when you choose to. Galop supports anyone from the age of 13 and up.
Increased awareness
To raise awareness on this important issue, Galop are working with Lambeth Council and providing training to Lambeth professionals including social workers, mental health workers and housing officers, ensuring the response to LGBTQ+ survivors of sexual violence is enhanced throughout the borough.
Chemsex
Recognising the increased risk of sexual violence within the 'chemsex' scene, Lambeth Council have partnered with LGBTQ+ health specialists London Friend who have provided training to professionals to respond to this appropriately when asked for support.
Safety in clubs and bars
To help staff in our vibrant LGBTQ+ bars and clubs respond well if they see or hear about sexual violence in their venues, Lambeth Council and Galop are working together to offer them training on consent, handling disclosures and signposting customers to get support.
Word from the Cabinet
Cllr Jack Hopkins, Leader of Lambeth Council, said: "I'm delighted to help raise awareness about the newly expanded support on offer to Lambeth LGBTQ+ residents who are victims of sexual violence. We know domestic and sexual violence affects all communities and LGBTQ+ residents experience additional barriers in accessing the necessary support. That's why Lambeth Council are passionate about promoting this campaign far and wide, to make sure that our residents know where to go to get the help they need."
Keeping track
Lambeth are keeping track of the impact of this work and hope to see referrals to Galop for Lambeth residents increase over coming months.
More information
To get support from Galop, call 0207 704 2040 or email referrals@galop.org.uk
See their information pages 
Open: 10am-4pm Monday – Friday; 1:30pm-4pm Wednesday
In an emergency always call 999