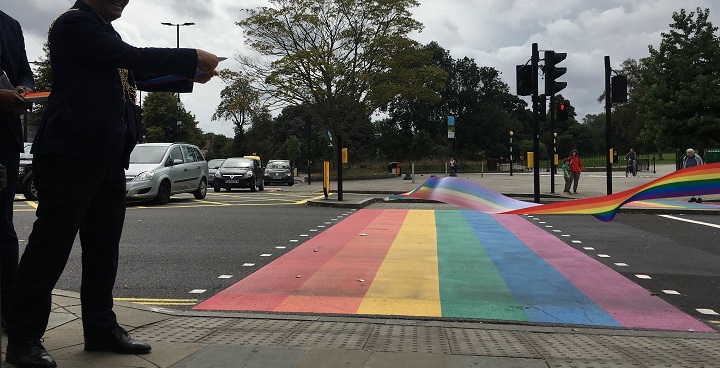 The crossing has been installed in Herne Hill, on two crossings outside the entrance to Brockwell Park; on the junctions of Dulwich Road with Railton Road, and Norwood Road with Dulwich Road.
A launch event today saw the crossing officially 'opened'.
Lambeth has always been a borough that prides itself on inclusivity and openness, and the rainbow crossing is designed to be a symbol of that solidarity with the huge LGBT+ population of the borough, and London as a whole.
'Proud'
Cllr Sonia Winifred, Lambeth Cabinet member for Equalities and Culture, said: "This is a colourful and fun symbol of Lambeth's inclusivity.
"We're proud of our LGBT+ community and have a tradition of championing equality and LGBT+ rights – this crossing celebrates that and is a physical example of our bold and progressive thinking.
"What better time to unveil the rainbow crossing than in the 50th anniversary of the Stonewall riots. We've come a long way, and in Lambeth we're proud to be leading the way."
'Inclusivity'
The Mayor of Lambeth Cllr Ibrahim Dogus said: "Lambeth's diversity has always been our strength, and we have never been afraid to show it!
"This crossing is a symbol of the pride we have in our flourishing LGBT+ community and will light up Herne Hill with its message of inclusivity.
"It is just one of the many ways that we will continue to stand in solidarity with all those who face discrimination in our borough and beyond."
Walk the Rainbow
Signifying equality, diversity and inclusion a rainbow crossing comprises those colours which match the internationally recognised Pride flag.
'Walk the Rainbow' messaging will appear throughout the borough, guiding people to the Herne Hill gate at Brockwell Park to check out the crossing, with people being invited to share images on social media with the hashtags #WeAreLambeth and #HerneHillRainbow.