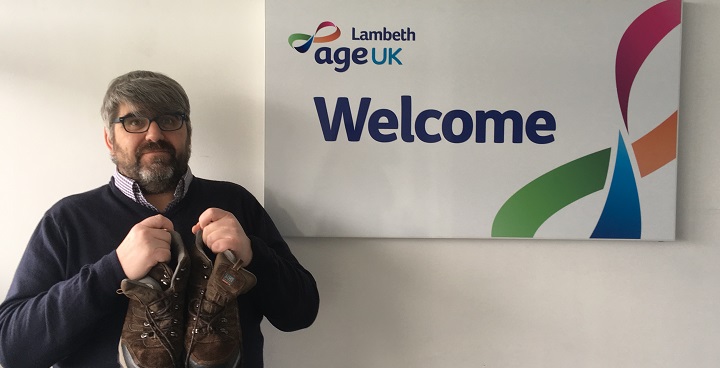 This May, Age UK Lambeth are asking the local community to do the Lambeth Walk and get sponsored to walk 100, 155 or 200 miles to help reduce loneliness in Lambeth. All the money raised will help fund the popular MYsocial service.
Why MYSocial?
Age UK Lambeth set up MYsocial was to help people discover friendships, connect with their community, and do things that make them happy. Our goals are to have a real impact on the older people's ability to live independent lives, support their own well-being and actively contribute to society. We run nearly 100 events a month, from regular classes like Zumba and yoga to cultural trips – gallery exhibitions, jazz clubs, parties and even a trip to an adult ball pit. Every event is hosted so guests arrive to see a friendly face.
First steps
Graham Gardiner Age UK Lambeth's CEO was the first to sign up for the Lambeth Walk. He says "Walking is such an easy and free way to get fitter and we could all do with walking more than we do – at least I know I do! I signed up to do this as I see daily the difference that MYsocial is making to the lives of people across Lambeth and I wanted to raise some money to support this service"
 Walk This May…
Walking has fantastic health benefits – burning calories, strengthening your heart, improving your mood and extending your life but now there is the added benefit that you're helping local older people.
Counting on you
100 miles (or even 200) is not as bad as it sounds:
100 miles = 6,450 steps a day
155 miles = 10,000 steps a day
200 miles = 12,900 steps a day
For more information
Age UK Lambeth is a local independent charity who have been supporting older people for over 70 years.  We are proudly affiliated to (national) Age UK, from which we receive just over 1% of our income.  Fundraising events like The Lambeth Walk help us pay for our services.
The Lambeth Walk is in May – sign up now for fundraising packs with tips on getting sponsored.
To help you clock up those thousands of steps Age UK Lambeth have organised 3 free walks in Brockwell park.