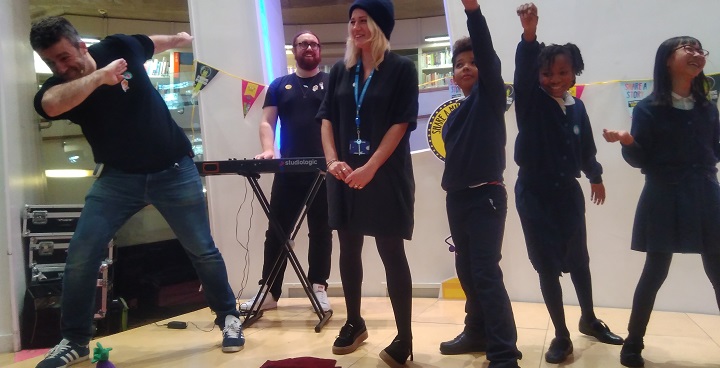 Clapham was officially 'the Loudest Library' when the World Book Day-sponsored Share a Million Stories reading campaign was launched there on February 27. World Book Day director Kirsten Grant joined authors BBC Radio 1's Greg James and Chris Smith – who have written a £1 World Book Day book Kid Normal and the Loudest Library – to announce the campaign's goals and literally make noise about reading and stories.
One in a million
Children from Year 4 and Year 5 (plus some from years 3 and 6) from Clapham Manor Primary School didn't need much encouragement to shout and play and make up a one in a million story about evil teacher, Miss Wiley (who took it graciously in her stride).  An ITV crew filmed the event for broadcast on Thursday, 5 March, World Book Day 2020. Copies of 'Kid Normal and the Loudest Library' were available to buy with £1 World Book Day tokens sent to the school. Greg and Chris stuck around for over an hour to sign books and take selfies with children.
Kid Normal and the Loudest Library
The new mini-adventure in the bestselling, award-winning Kid Normal series, is published exclusively for World Book Day 2020. In it Murph Cooper and the Super Zeroes team up with school librarian and secret superhero Mrs Fletcher (special power: her head turns into a foghorn) to foil a dastardly, 1000-decibel plot. When Mrs Fletcher's friend disappears from her duties as town librarian, it's clear that there's something strange afoot. A librarian never deserts their post. Plus the library has suddenly started hosting a whole host of ludicrously loud events. Cow choirs, pneumatic drill masterclasses, stamping competitions … could a dastardly criminal be using the library to cover up a crime of epic proportions? It's up to the Super Zeroes to get to the bottom of this mega-loud mystery.
More information
Join a Lambeth Library for free
World Book Day is on March 5 – find out more
Share a Million Stories is a nationwide campaign to help change children's lives, by making story-sharing a habit of a lifetime and creating readers for life. Find out more