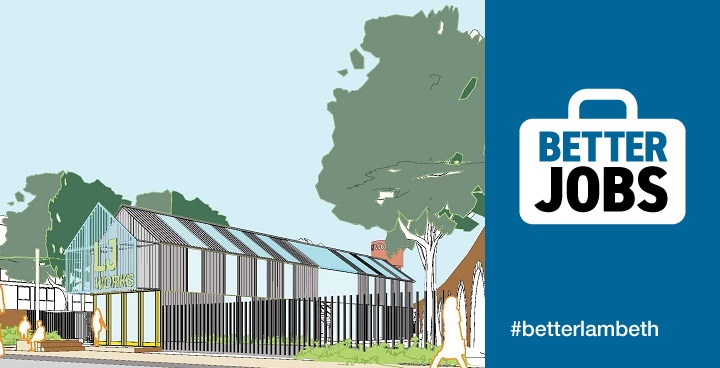 LJ Works will benefit from GLA and Council funding. A grant of more than £1.6million from the Mayor's London Regeneration Fund dedicated to reinvigorating high streets and places of work.
Incubate your business
LJ Works offers flexible membership and affordable rent to encourage innovation and different businesses. We hope to help over 75 businesses, including those who've been on Tree Shepherd's 'start your own enterprise' course and have a business plan for using the space to 'incubate' their moneymaking ideas.
Site environment
The North of the site used to be a depot for Lambeth Housing Standard works. The South was home to volunteer-run Loughborough Farm. Although the site is zoned for business use, we're working to keep elements of the farm to make the space open and welcoming to people. Other environmental work to help get the site ready includes clearing Japanese Knotweed, reducing flood risk, and designing the space to create more pavement space.
Experienced partners
Partners Meanwhile Space were already using railway arches on Ridgeway Road in the "Platform Project" giving local people the opportunity to test out business ideas including home-made beauty products, chutney and party balloons. The Edible Bus Stop also work from a base in an arch.
Space for food businesses
Our partners confirmed that there's a need for kitchen space, as so many local business ideas are food businesses trying to operate out of home kitchens. The Steering Group agreed that one of the anchor tenants should be a food business – that's how Mission Kitchen came in.
Word from the Council
Cllr Matthew Bennett,  Cabinet Member for Planning, Regeneration and Jobs said: "I'm delighted that thanks to investment from Lambeth and the GLA, new affordable workspace will be coming to Loughborough Junction. Our aim is to provide opportunities for local people, to encourage innovation and to tap into the entrepreneurial spirit of local residents. LJ works will provide a wonderful space for start-ups to spread their wings."
Steering Group
The project has a steering group that unites residents from organisations including the Loughborough Junction Action Group and Loughborough Estate Management Board. Marcus Lipton Youth Centre was there almost from the start for the input on what young entrepreneurs want. The long-term aim is that after 5 years the residents' Steering Group will become – or choose – their own site management company.
---
For more information