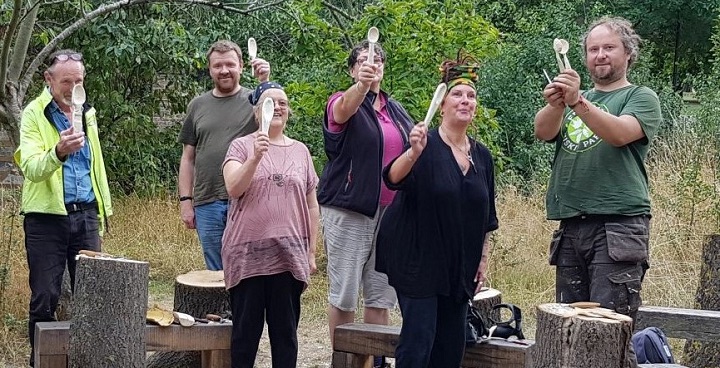 Crowdfund Lambeth has pledged £1,000 to Loughborough Farm's 'Growing Wellbeing in Loughborough Junction' project, helping keep local people healthy and well and fight loneliness through this first Covid-19 winter.
Greener, healthier, more resilient
Loughborough Farm supports the community in creating a greener, healthier and more resilient neighbourhood. This winter, volunteers will nurture wellbeing through growing food for local people. As well as gardening to eat well, we will run more workshops including healthy cooking, DIY and wood carving, (as shown in photo from 2019) fermenting, music, connecting with nature and coping with grief.
Hard times for wellbeing
Project Co-ordinator, Emily Myers said: "This year has been an isolating and hard time for wellbeing. We really need support to help us run winter workshops and nurture the growing work we do through winter and beyond."
Lessons continue
Lessons learned in summer about time in nature and open spaces, and socially-distanced outreach on local estates, will continue. Small group growing sessions and health and wellbeing events in our local parks and remotely on Zoom began this summer and the need for them has grown. Any extra vegetables we grow will be shared with sister project, The Platform Cafe, who provide free meals to local residents in need.
More information
To pledge, or for more details (including a video) see the Crowdfunder page
Crowdfund Lambeth is a platform to support community projects making our borough a unique place to live, work, learn and do business. The project must demonstrate strong local support shown a vibrant crowdfunding campaign. To be considered for match-funding from Lambeth Council, the project must also meet some simple criteria and must contribute to one or more of the borough plan priorities:

Sustainable growth: a growing economy that everyone benefits from.
Resilient communities: communities that are thriving and connected.
Promote care and independence: people have support to live well and independently.
Place: Make Lambeth a place people want to live, work and invest
If you have a project or initiative and want to find if you're eligible for match-funding, you can see our criteria and apply online.

Loughborough Farm has a patchwork of growing spaces in Loughborough Junction. Our main site, where gardening sessions run, is on Loughborough Road, but we also reach out to local estates, encouraging people to grow food on their balconies.
The five Projects That Matter winners
Links – maybe include link to LJ Works so people know what it is.
Also our FB page  https://www.facebook.com/loughboroughfarm/
instagram  https://www.instagram.com/loughboroughfarm/