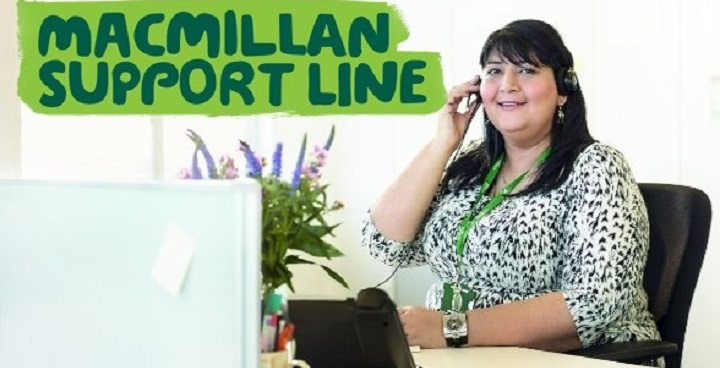 We're looking for volunteers in Lambeth to come and help on the Macmillan Cancer Support line.
We know cancer changes everything. Many people find it hard to talk to their loved ones about cancer, or to talk about it at all. Sometimes, talking to someone outside the family and group of friends can really help. A chat with one of our experts can help someone find the words they need.
Macmillan Frontline Team: people like you
We are looking for enthusiastic and committed volunteers for one three-hour shift per week to help the Frontline Team by offering practical and emotional support to customers over the phone. This would involve providing an immediate, warm and caring voice for people affected by cancer, and assessing need and pursuing appropriate action, including transferring calls to our specialist teams or signposting to external support.
The person specification
We don't require experience, just a caring and empathetic telephone manner, good communication skills and reasonable IT skills. We need you to be able to work with a range of people and be willing to learn and receive feedback.
Calling on Lambeth people
"We're looking for volunteers from Lambeth because it's an incredibly diverse and multicultural borough and we hope to have volunteers to reflect that community" says Frontline Volunteers co-ordinator Philippa Paine. "We're based at "Charity Towers" next to the MI6 building in Vauxhall. You'd be part of a nationwide service, though."
You'll have the answers
As well as offering emotional support, volunteers provide practical information such as finding local support groups or sending out information booklets, as well as transferring people to other teams for more specialised help. We provide a comprehensive induction and training to help you gain the skills required and to support you in the role as well as on-going supervision.
---
For more information
For more information about the Frontline Volunteer role, please contact:
Philippa Paine on 020 3947 4761 or
Email ppaine@macmillan.org.uk or
Find out more about Macmillan Cancer through their information pages and apply online
The support line is open Monday-Friday 9am-8pm.