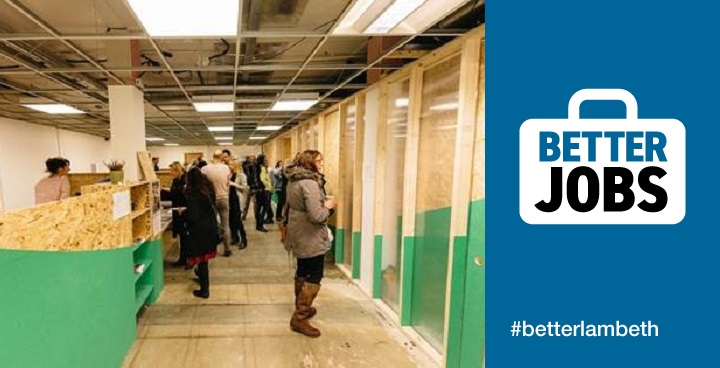 Meanwhile Space CIC is a pioneering social enterprise, creating vibrant communities by bringing temporarily redundant space into productive use. They're working with Lambeth Council to match new and developing businesses to custom-built studio space in LJ works – the new workspace development in Loughborough Junction.
Word from the Council
Cllr Matthew Bennett, Cabinet Member for Planning, Regeneration and Jobs said:
"Meanwhile Space are already effective partners with Lambeth Council, managing Granby Place as affordable office, co-working and retail space for freelancers, entrepreneurs and 'start up' businesses. We look forward to seeing more local businesses thrive in this new creative space."
Building business in railway arches
"We're already working in Loughborough Junction. We started there in 2014 with grant funding from JP Morgan Chase Foundation and with Lambeth Council and Network Rail as partners. There are businesses with a very practical bias in all the railway arches. There's Clarkeshaws brewery; AGT – a tech company training young people in computer repairs; carpenters, Edible Bus Stop; an African drummer; a printer; and the LJ Farm cafe.
New style
"We're locally led, so we never prescribe what businesses 'should' be there. But LJ works will suit new and developing businesses; textiles, jewellers and other makers – where 50 Square metres in a railway arch wouldn't work for them, studio space is ideal. There'll be up to 20 permanently-let spaces and one shared studio. The benefit to the businesses are that they have a rent-capped space. The allocations policy gives a priority to people living and working locally.
Building a community
 "They'll be working alongside food businesses from the same diverse communities. We always aim to build a community of businesses – a microcosm of the local community. I think LJ works will be a very different mix, including the outdoor space of Loughborough Junction Farm and its volunteers.
Success
"We're enthusiastic about the tenant's excitement at the opportunities they find in these meanwhile spaces. Success doesn't have to be 'making it big'. If people are making beautiful things, effectively and comfortably, and selling them to make a living, that's success."
---
For more information