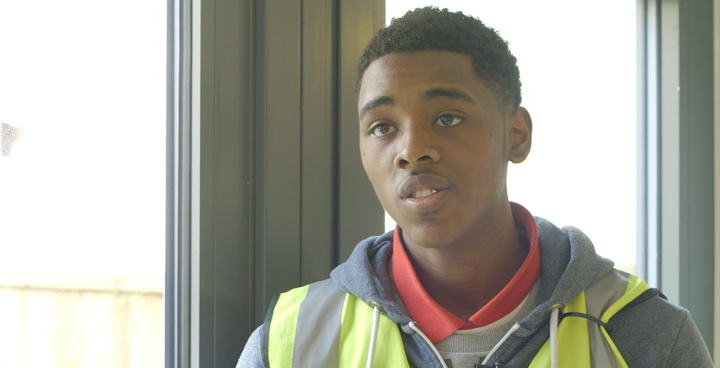 Shaqueele is working towards a level 3 electrician apprenticeship. He was originally discovered through the Build It Lambeth programme, where young people and trades people volunteer together to improve community spaces. From this, he gained work experience and then an apprenticeship with Higgins Construction.
Keeping it local, 20-year-old Shaqueele now works on the Myatt's Field North estate, which is a five minute walk from his home. The regeneration of Myatt's Field North is a multi-million pound investment which involves the demolition of 305 existing units and the construction of 808 new homes, as well as other refurbishment and repair work. At least 40 local apprentices will be employed during construction, as well as 12 trainee site managers and student work placements.
Shaqueele is proud to be able to point out improvements in his own neighbourhood and to say he helped to make them happen: "I'm helping build up a new scheme in my local borough and later on in your life you can say, 'I was here working on it'."
Talking about the apprenticeship he said: "Now I understand the difference between what you learn at college and what you learn on-site. I look forward to coming to work. This is something I really want to do.
"It is good to get a trade. You'll always have your skills with you and they will open doors for you. But you have to be prepared to work hard."
Do you want to take advantage of construction jobs in Lambeth?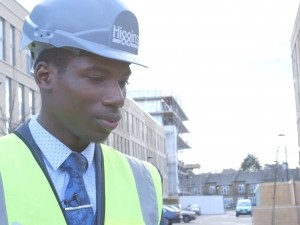 Over the next three years more than 200 apprenticeship roles will be created on just eight of the 29 development sites across Nine Elms on the South Bank. This is the largest regeneration area in central London and stretches long the Thames from Lambeth Bridge to Chelsea Bridge and includes developments at Albert Embankment and Vauxhall, the new US Embassy and Battersea Power Station.
If you're interested in the opportunities for apprenticeships at Nine Elms then please contact Lambeth Working at lambethworking@lambeth.gov.uk.
Apprenticeship roles within the construction industry range from carpenter, bricklayer, painter and plumber to surveyor and civil engineer technician, as well as an electrician, like Shaqueele. You can find out more about the 15,000 apprenticeship job roles and register for apprenticeship vacancies at the National Apprenticeship Service website.