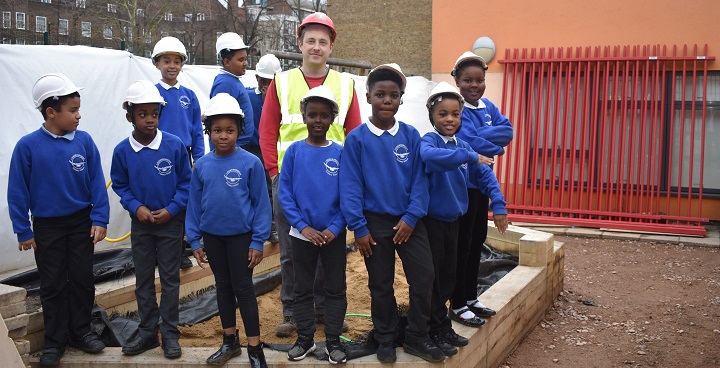 Local children took a tour of the building works for the new-look Loughborough Children's Centre in Brixton. The Centre has begun refurbishments costing nearly half a million pounds as part of Lambeth Early Action Partnership's (LEAP) ongoing 'Capital Project'  – the £4 million redevelopment project of 11 different early years spaces in Lambeth.
Word from the Cabinet
Cllr Jennifer Brathwaite, the Deputy Leader of Lambeth Council, said: "This investment in Loughborough Children's Centre builds on the important work being carried out in the borough to help young people get the best possible start in life. I look forward to this refurbishment being completed as part of the LEAP Capital Project and to joining the local community for a celebratory re-opening."
The work includes a new outdoor space for play, a buggy store, and a new entrance. Changes inside the building will:
improve space for the delivery of health services
refurbish spaces for the delivery of stay and play activities and groupwork.
Making progress
LEAP Director Laura McFarlane said: "It was fantastic to go down to Loughborough and see the work well under way. These improvements are going to make a huge difference in terms of the activities Loughborough Children's Centre can put on and to the long-term development of children. It was really nice to have the children here and they all were really excited to see the progress and can't wait to use the new facilities."
LEAP capital projects
Works at Loughborough are carried out by PA Finlay & Company Ltd. LEAP's Capital Project (supported by the National Lottery Community Fund) has been taking shape since November 2017 and has already seen improvements to the Mulberry Centre, Max Roach One O'clock Club and St Stephens Children's Centre amongst others. All 11 sites should be completed by this Autumn.
For more information
LEAP (Lambeth Early Action Partnership) is part of the 10-year (2015-2025), £215 million National Lottery funded A Better Start programme, supporting families to give their babies and very young children the best possible start in life. See their information pages
LEAP is hosted by the National Children's Bureau (NCB). NCB is a leading children's charity working to build a better childhood for every child. See their information pages
For more about LEAP or the capital project please email Communications Stakeholder and Engagement Officer Gareth Williams.