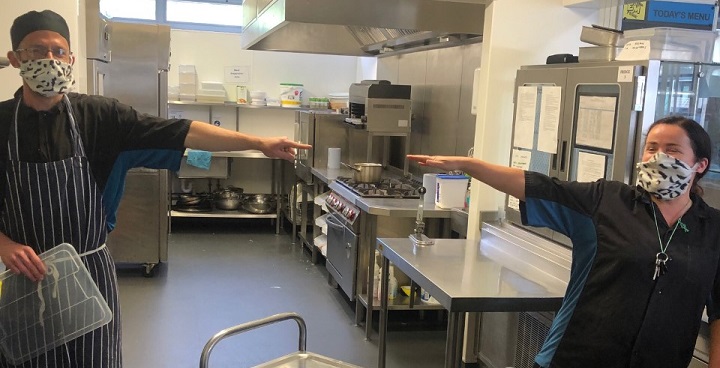 Mosaic Clubhouse's building in Brixton – where 80 people a day often come to share work and be together – physically closed in March, but we're supporting 400 + members by phone, through Zoom and with member-run virtual activities.
By phone
We know many members don't have computers or IT skills. Keeping in touch by phone was the clear way to start – it's how we always reach out to people who don't come to the Clubhouse. Our Engagement Workers are all working from home, offering emotional and practical support. We're still offering advice such as when foodbanks are open and on benefits claims. Our Evening Sanctuary crisis service supports people by phone every night including new referrals. Our Hospital In reach project is still going by phone, supporting people who recently left hospital.
Zoomed in
The Clubhouse is very much based on working, so after a couple of weeks we started regular Zoom work planning meetings. Members say they really appreciate it in terms of having a structure.
Online
Our online newsletter In the Mo has gone weekly with members' contributions, and members have created and run groups based on what they want to offer – we have a radio show requesting poems and songs; an email art group: a writing group setting two tasks a week with everyone reading each other's work; and film watch parties.
Street Kitchen
Instead of the building standing empty, our kitchen is in use by charity Streets Kitchen, making and delivering food to homeless people who Lambeth Council are currently keeping safe in hotels. Some meals also go to Clubhouse members. Volunteer Daniel says: "I've been a chef over 10 years. Mosaic Clubhouse offered full use of their professional kitchen to prepare two meals a day for 100 people. This wonderful organisation carries on helping others in need – and volunteering has given me strength to overcome my own problems during this difficult time."
Around the world
This pandemic is global, and we've kept in touch with Clubhouses around the world, sharing what they've learned, what kind of re-opening they're planning. We've learned we want to keep these virtual connections going when people start coming back to the Clubhouse, and members say that different kinds of contact are really positive in terms of our 'working together' ethos.
More information