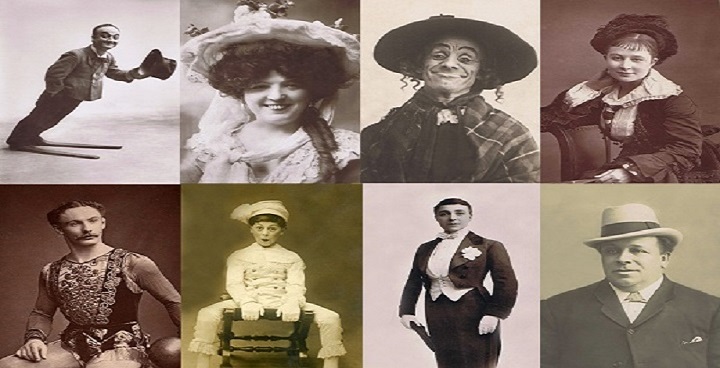 Music Hall still matters today because its development mirrored the expansion of London and its suburbs throughout the Victorian era. Studying this reveals insights into the growth and social history of London and its working people.
Stages and coaches
By the middle of the 19th century, Music Halls existed in almost every part of the metropolis as the prime form of popular entertainment. At the same time, the public transport system developed. Brixton Hill, Tooting and Streatham all had successful performers who made their homes in what were then suburban oases and used the trams, tubes and trains to get easily into London.
Blue plaques
While many of the buildings have long been demolished, there are still many traces of heritage in Lambeth today – blue plaques in Tooting and memorials at Lambeth, Streatham and West Norwood Cemeteries. Our commemorative blue plaques make historical figures more tangible by identifying where they lived and worked. We have commemorative blue plaques all over London which include: Music Hall Comedienne, Marie Kendal (Clapham), Fred Karno (Camberwell), who put Chaplin on his way to stardom, and Lupino Lane, the original singer of "The Lambeth Walk" (Maida Vale). One Lambeth resident in line for a plaque in 2018 to mark the centenary of his death is the 'human billiard table', juggler Paul Cinquevalli.
Stars and memories
Most people know south Londoner Charlie Chaplin went from Music Hall to Hollywood. Some artistes are forgotten – like Bessie Wentworth, famous enough to be drawn by Toulouse-Lautrec but with no memorial in London. But some names, like Marie Lloyd (Golders Green) still resonate even today. They all played a part in the development of our collective popular culture and its transformation into the Radio and Television entertainment that dominated the twentieth century.
More information
We are always looking for volunteers – tending the graves, undertake research, fundraise and take part in our celebratory commemorative events.
Find out more, contact us and contribute to our work on our Music Hall Guild website.
Read about the music hall artistes mentioned here: