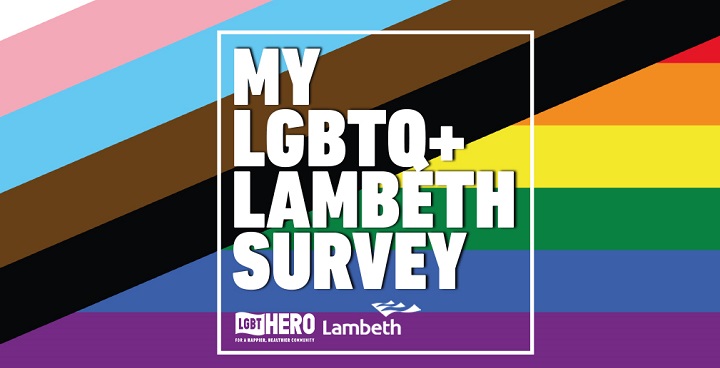 More LGBTQ+ people live in Lambeth than anywhere else in the UK. LGBT HERO has teamed up with Lambeth Council to find out what life is like for LGBTQ+ people living, working and socialising in Lambeth.
 Your LGBTQ+ Lambeth
We want to hear from you and hear what you think. This is about your health, your life, your spaces, your voice… your Lambeth. What you say will help LGBT HERO and Lambeth Council to improve services and to make positive and effective changes for our community in the London borough.
 Who should take the survey?
Any LGBTQ+ person who lives, works or socialises in Lambeth should take the survey.
 What does the survey cover?
The survey addresses topics such as your health – including mental health and disability and the help avail;able , work and social life – especially during the pandemic, LGBTQ+ bars, clubs and social spaces in Lambeth, safety, hate crime, LGBTQ+ parenting and your voice in Lambeth.
Why should I take the survey?
This is your chance to shape the future of Lambeth for the LGBTQ+ community. The results of the survey will be looked at by Lambeth Council and assessed to make positive and effective changes for our community in the London borough. The results of this survey will work alongside the findings of 2021's LAMQ survey of LGBTQ+ residents – including in-depth work in partnership with LGBTQ+ people from Lambeth's Black and multi-ethnic communities – carried out by Lambeth Council in partnership with London Metropolitan University.
More information
LGBT HERO is the national health and wellbeing charity supporting over 100,000 LGBTQ+ people a month by providing trusted information, advice and various types of support including one-to-one, group and peer-support. For more information about us visit our information pages. LGBT Hero started life in the 1980s as GMFA (Gay Men Fighting Aids) and have grown and developed to include more genders, health needs and sexualities.
To ask LGBT Hero about this survey, email hello@lgbthero.org.uk.