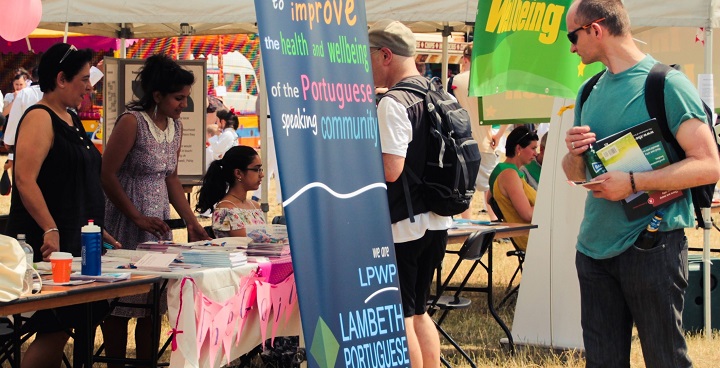 Lambeth Portuguese Wellbeing Partnership (LPWP) has been joined by two new coordinators offering mental health and food wellbeing support to Portuguese Speakers affected by Covid-19.
New co-ordinators
The new coordinators are Paula Reybitz and Felicia Luvumba. For three months they will provide 1-2-1 information, support and advice in Portuguese and signpost people to sources of help in the community, the NHS and Lambeth Council. They will also run awareness sessions and aim to build partnerships to secure longer-term resources/funding.
Community mental health support
Paula is an Integrative Psychodynamic Counsellor. "I founded a mental health social enterprise and have worked in a multi-ethnic NHS service.  I hope to raise awareness of mental health support available in Portuguese, listen to community needs and build organisational partnerships to amplify the voice of the community through translation and other opportunities".
Food poverty support
Felicia is well connected to the Lambeth Emergency Food response and partners like the Trussel Trust. "I've already been supporting LPWP with our Covid-19 response, particularly helping people to access emergency food and supplies. Food wellbeing is connected to mental and physical health and we feel this is an important opportunity for synergy and connection."
Who will they work with?
They're here to help and advise:
Lambeth and South London Portuguese Speakers affected by Covid-19.
Anyone who'd like to invite them to a community event/workshop/information session for Portuguese speakers to talk about support available for mental health and food wellbeing.
Anyone who'd like translation support for important messaging around these themes
Finally, they want to talk to potential partners to develop a longer-term joint offer to support Portuguese speakers in the future.
More information  
Contact Paula or Felicia: email paula@londonpsychology.org or call our Portuguese speaking support Line 0203 143 4060.
For more about services in Portuguese and Lambeth Portuguese Wellbeing Partnership (LPWP) see
The successful bid for new funding for the new co-ordinators' role came from Voice4Change (the only national organisation dedicated to the Black & Multi-ethnic Voluntary and Community Sector (VCS) and Mental Health Charity MIND.