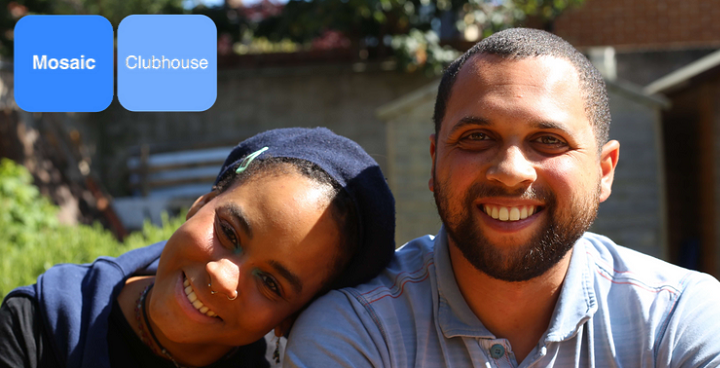 Mosaic Clubhouse is a unique charity at the heart of the mental health and care system in Lambeth. We want to increase the diversity of our Board's background, experience, thinking and decision-making so that we more closely reflect our community; bringing fresh new perspectives.
Members
People with mental health issues from the Lambeth community form our membership. Our aim is to help members develop confidence and skills to positively manage their mental health and get back to their daily lives through relationships, work or education.
Model
Mosaic Clubhouse's work is built on the International Clubhouse model and we're a leading member of this international network. Everything we do, we do with members. From being on the Board, running meetings and delivering support, to giving talks and tours, and staffing the reception, members work alongside staff and trustees. This ethos extends to our board meetings. We always start by sharing a meal together, freshly cooked by members and staff.
Plans
We have ambitions to help more people, and to promote the success of the Clubhouse model within the UK and internationally. We're looking for Trustees to join us at this exciting time. We currently have two vacancies on our Board and are looking for outstanding individuals motivated by and committed to our purpose and approach, and excited by the impact we want to make on a local, national and international scale. You'll be expected to participate in all board meetings (4-6 a year) and to join one of the sub-committees. Commitment is usually in the evenings. We're particularly interested in people from black or minority ethnic backgrounds, and /or those with experience of delivering mental health services or from the local business community. However, do get in touch if you have other interests believe you have relevant experience.
For more information
Please contact Chris Thomas our CEO, to hear more. If you know us and have already visited, please complete the application form and equality monitoring form on our website and we will be swiftly in touch to discuss your application.