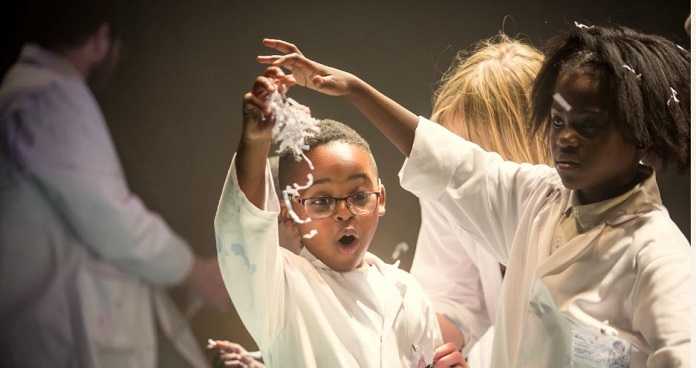 Over the last year the Young Vic participation department, Taking Part, engaged with over 11,000 people in the Southwark and Lambeth communities offering free tickets, skill-based workshops and the chance to participate in community shows inspired by productions on the Young Vic's three stages and beyond.
"Being able to use theatre as a way to connect people and let them share their experiences with one another is a powerful way to learn about the world. The work that we do through Taking Part deepens our engagement with our community and gives space for vulnerable people to share their stories with people they wouldn't otherwise meet." Imogen Brodie, Director of Taking Part.
For over 20 years, the Young Vic's Taking Part programme has worked to bring community members together to experience and engage with professional theatre. Taking Part connects with vulnerable groups such as refugees, homeless people, children and adults with special needs and people in recovery.
Open to everyone in Lambeth and Southwark, Taking Part's Two Boroughs programme's recent projects include The Brolly Project, a production created in response to Shakespeare's Measure for Measure on the Young Vic's Main House. The show was created in collaboration with and performed by sex workers who gave a first-hand account of their moving true stories. Due to the success of the show, a development of The Brolly Project titled See Me Now will open in February 2017 in the Young Vic's Maria theatre.
Neighbourhood Theatre, an extension of the Two Boroughs project, is made up of 80 people who live within Lambeth and Southwark. The group meets regularly to share ideas on how to shape future Taking Part projects and engage their communities in Taking Part's ongoing and expanding activities.
"We're so proud to be able to provide a safe space for the community to gather and tell their stories. Neighbourhood Theatre wouldn't be possible without the generous support of Arts Council England, Lambeth & Southwark Borough Councils as well as Big Lottery Fund and Paul Hamlyn Foundation." Lucy Woollatt, Executive Director at the Young Vic
Learn more about the Young Vic's Taking Part programme :
See Me Now created by Mimi Poskitt, Molly Taylor and the company and directed by Mimi Poskitt runs in the Young Vic's Maria theatre 11 February – 4 March 2017.
(Picture: The remarkable case of K2, photo by Helen Murray)