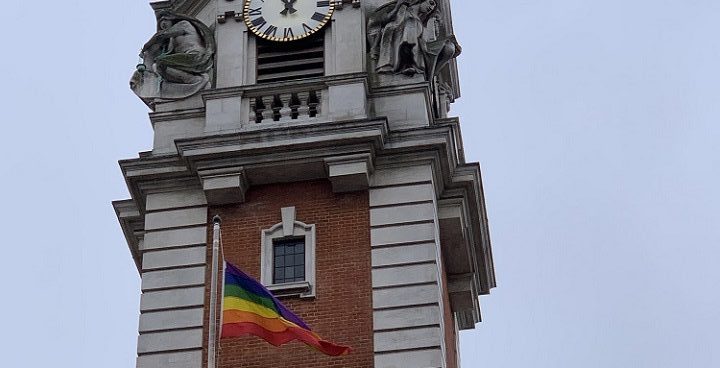 The rainbow flag, symbol of LGBT+ Pride, will again fly from Lambeth Town Hall all June, to mark Lambeth Council's commitment to Equality, Diversity and Inclusion.
Word from the Cabinet
Cllr Sonia Winifred, Lambeth Council's Cabinet Member for Equalities and Culture, said: "Lambeth is home to one of the UK's largest LGBT+ communities, who enrich our vibrant borough. Lambeth Council has a strong track record of championing Equality, Diversity and Inclusion. and we're pleased to support LGBT+ Pride Month. We continue to support and celebrate our LGBT+ residents."
Health
Lambeth Council supported the LGBT Foundation to run a pilot Pride in Practice programme with 22 Lambeth GP practices and 14 pharmacies for 2019/20.  Support and training to healthcare providers resulted in:
70% of trained practices introduced sexual orientation and/or trans status monitoring.
100% of trained practices now follow best practice guidelines based on HIV prevalence, and offer up to date prevention advice, including PEP and PrEP.
99% of professionals trained feel more confident working with LGBT+ patients.
During the COVID-19 outbreak they've been working on remote service delivery for LGBT+people, supporting LGBT patients needing essential healthcare, setting up a community of practice for self-isolating health professionals and working towards a national COVID-19 Health Inequalities Network. The council has funded Pride in Practice in Lambeth for 12 more months.
Library services
This year Lambeth Libraries celebrate Pride Month online with:
lots of action on Lambeth Libraries Instagaram account including Pride Month storytime, Lewis Laney reading from the 'Little Book of Pride', a craft group making a pop-up rainbow card and recommended books for children and teens about, and by, LGBTQIA writers.
Radical Readers Book Group discussion of A Brief History of Seven Killings – Marlon James (pic right)
Watch party and Twitter reviews on US comedy 'Hurricane Bianca' via your library card on Kanopy Film Club 
… and much more from the LGBTQ+ Pride month menu Lambeth Libraries on the Lambeth Council website
Business
Lambeth has set up the Independent Hospitality Fund as part of a £4.2m in Financial Support for Lambeth Businesses. Council analysis shows longstanding LGBT+ pubs and venues in Vauxhall are some of the hardest hit local businesses – we will help safeguard the future of these vital social and cultural places.
Community
Lambeth Links is a new LGBT+ community forum with two key priorities in Lambeth:
A bid to Lottery Heritage Fund to expand our local LGBT+ archives
An AIDS memorial in the borough
Lambeth's LGBT+ staff forum is working with them and joining in the invitation to residents to join these projects.
For more information
Pride in London's online guide to LGBT+ friendly events includes Lambeth-linked events such as theatre from  the South Bank .