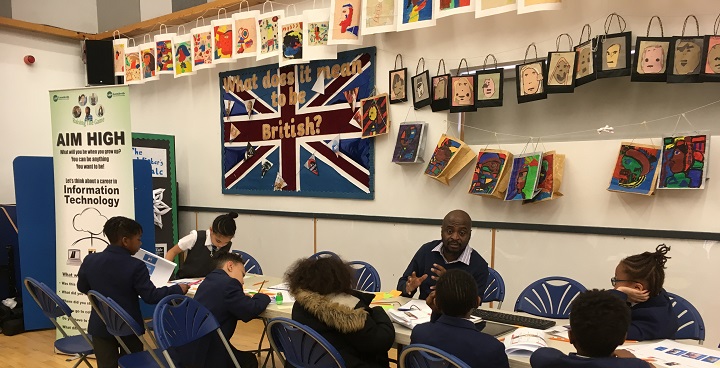 Over 500 children from Years 2 to 5 from different Primary Schools in Lambeth attended an 'Aim High' workshop to inspire them to work in Medicine, Law, Information Technology and Education.  This was part of the Raising the Game project (raising achievement of Black Caribbean Children) organised by the Lambeth Schools Partnership.
Inspirational professionals
The ultimate goal for the workshops was to raise children's aspirations through meeting inspirational and highly-successful black individuals from the 4 different industries. The children came across nurses, doctors, lawyers, barristers, paralegals, architects and many more professionals. The children were able to ask questions and carry out activities around how the different individuals had ended up in their particular role and what steps they took to get to where they are now.
Volunteer support
In order to run these workshops, Lambeth called on volunteers from all of the industries to support us; without them we would not be able to make events such as these possible. Headteachers from different Lambeth schools came to support us in running the Education station and to emphasise to the children that they can be anything they want to be. The Information Technology station was run solely by Lambeth members of staff ranging from architects to the head of IT.
Interactive sessions
We also counted on the support from the Black Solicitors Network and the AC Medical Mentors association. Volunteers from both of these associations came forward to run interactive sessions not only to motivate the children to take up a career in medicine or law but to also give them insight into the different professions available within these industries. One child stated: "I learnt the difference between a nurse and a doctor."
Immediate feedback
It was an extremely enjoyable week with lots of great feedback from the children and their teachers. Many teachers left feeling inspired themselves! We were able to obtain immediate feedback from many pupils; at the beginning of the session, a pupil said he wanted to be a boxer however, at the end of the session he said he wanted to be a doctor! Another child said: "I want to be a dentist to help people with their teeth so they don't get bullied".