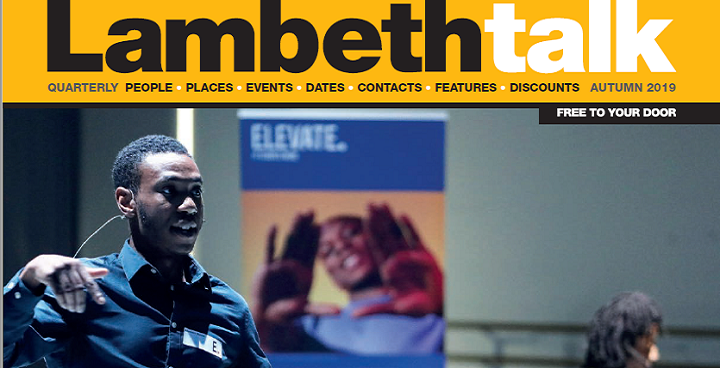 On the cover: ELEVATE.
Our mission to support diverse talent and open up the creative workplace.
New school year, new resolutions
Lambeth Adult Learning will be offering almost 500 new courses, helping residents open up new opportunities for their life and work by learning something new.
The Annex at the Old Vic
Lambeth has agreed to loan the iconic Old Vic £3.75 million to unlock a series of educational and cultural experiences for young people. The funding, which is beingmatched by neighbouring Southwark Council, will help support the creation of a new £12 million centre, The Annex.
Lambeth heritage festival
Each year in September it opens up the history of people and places to make them relevant and interesting for residents and visitors.
Streatham Free Film Festival
The fifth annual Streatham Free Film Festival is back for two weeks from 14-29 September. The team of volunteers behind the event carefully select the programme to include films that appeal to all ages and tastes within the community.
Black History Month
Whether you're looking for entertainment or education, well-known history or new discoveries, there's something for all ages and all tastes.