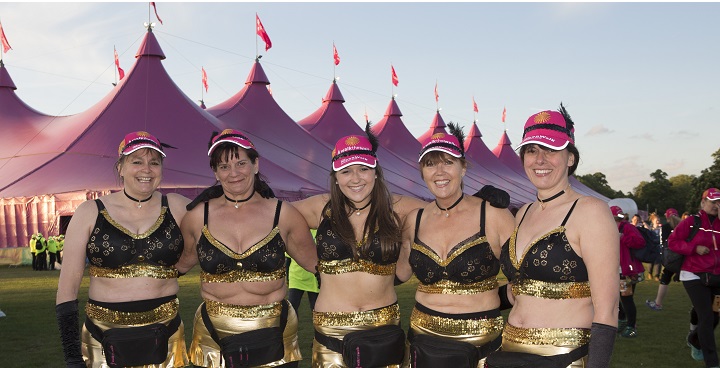 Have you seen the huge pink tent on Clapham Common for the last few years and wondered what's happening inside? Now's your chance to find out! The tent is the size of two football pitches and is where 15,000 women (and men) will gather on 12 May before The MoonWalk London, which finishes here too.
Thousands of MoonWalkers
We're grant-making breast cancer charity Walk the Walk, organisers of iconic night-time fundraising event, The MoonWalk London. At midnight on Saturday 12 May, thousands of women and men wearing brightly decorated bras will walk through the streets of London at Midnight, raising money and awareness for breast cancer. The route starts and finishes in Lambeth – why not join us?
From Clapham to Central London
From Clapham Common, the route for The MoonWalk London passes many of London's iconic sights, including the London Eye, Houses of Parliament and Tower Bridge. What an amazing way to see the sights of the capital as never before – at night!
 Cowgirls and cowboys
This year's theme is Wild West London and many walkers will be decorating their bras to become cowboys or cowgirls for the night!
Pre-walk entertainment
Before you set off, you'll enjoy some amazing entertainment with acclaimed Dolly Parton tribute Kelly O'Brien performing some of Dolly's most famous hits. You'll also take part in what is thought to be the largest-ever line dance in the UK!
Choose your walking distance
The MoonWalk is a fantastic way to get fit. Walkers can sign up for the Half Moon (13.1 + 2 miles) or the Full Moon (26.2 miles).
Entry costs and sponsorship
It costs £49.50 to enter The MoonWalk London and we ask all our walkers to raise a minimum of £100 in sponsorship. This will be the 21st MoonWalk London. Since Walk the Walk started, our walkers have raised an incredible £121 million to research into breast cancer.
---
For more information