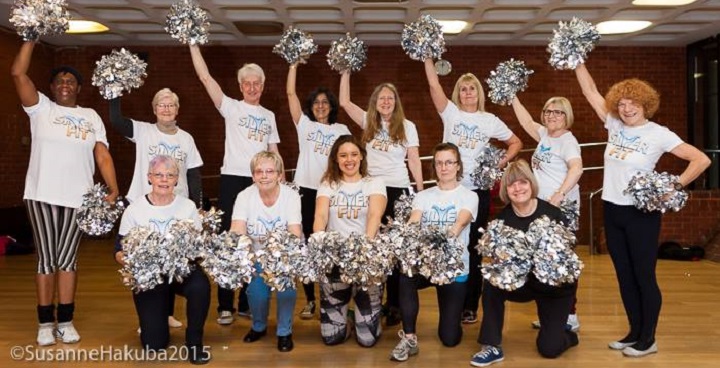 Why not try something new and exciting to jazz up your Wednesday mornings? Silverfit is now offering Silver Cheerleading in Brixton Rec, led by the fabulous London Cheerleaders, who bring their silver poms poms along which make for a great fun workout.
Cheerleading is an exciting activity, which requires cooperation, communication, and regular social interaction. So, why not get healthy and make friends in the process? We welcome all abilities and love newcomers! By popular demand, we are starting an evening session on Thursdays from 18th Feb at the Ferndale Community Sports Centre.
Cheerleading is good for us all, women and men too – its brilliant exercise, strengthening the heart and lungs, reducing risk of heart attacks, strokes, high blood pressure and similar health problems. It counts towards Govt. guidelines of 150 minutes of moderate cardio each week, helps to maintain a healthy body weight, thus reducing their risk for Type 2 diabetes and some cancers. It develops core strength, powering every muscle in the body. The occasional jumping or turning around increases bone density, which prevents osteoarthritis – nothing too strenuous.
Cheerleaders are always smiling and looking happy. The teamwork requires cooperation, communication, and regular social interaction – all helping to make friends and enjoy that peer support, reducing the risks or depression and anxiety, and even improving sleep.
So come and have a look, or even join in? It is fun!
Please see the attached Silverfit's Silver Cheerleading flyer for full details.
Find out more
Silverfit is a charity aimed at encouraging wellbeing and fitness for over 45s – promoting happier, healthier ageing.
We organise many events and social activities encouraging people to take up fitness regardless of ability and background, including Nordic Walking and Pilates in Brockwell Park every Tuesday.
Please see the Silverfit website for full details.