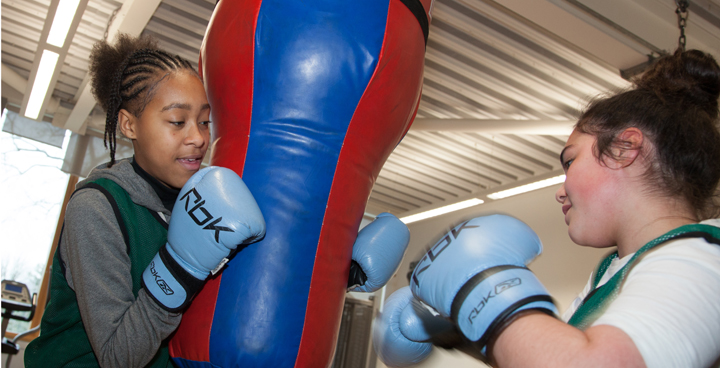 My first job was as a lifeguard in my local swimming pool and years later I found myself working for a health charity supporting their gyms!  A world away from politics.
Being active is a big part of my life – personally and professionally, though like many I struggle to prioritise it! That's why it's great that there's loads of activities in Lambeth to get your heart racing! The brand new West Norwood Leisure Centre opened last year and completed the hat trick of new leisure centres in the borough.
Our leisure centres
We expect demand for our leisure centres in Streatham, West Norwood, Clapham, Brixton, Ferndale and Flaxman to continue to grow. We are confident that by 2017 we will not only be able to maintain the current level of service, but that these facilities will provide more income for improvements. We also plan to use some of this money to fund prevention activities to tackle the impact of ill-health (like local zumba classes).
A Sport Innovation Fund
Working alongside our contracted leisure, sports and physical activity providers, we are proposing to establish a Sport Innovation Fund. This will provide access to facilities at reduced rates for Lambeth based community-led sport clubs and self-help groups. We propose the priorities for this fund to be:
A Lambeth Active Women's and Girls programme encouraging and offering a range of activities.
Community sports clubs supported to achieve Sport England Club Mark and FA Charter Standard accreditations, so they can get increased levels of external funding for activities across Lambeth.
An Active Walks programme led by trained walk leaders in our parks and open spaces to encourage residents of all ages to take up walking – a free, sociable and effective way to exercise.
Recognition for young volunteers
I was delighted to hear that three young Lambeth volunteers were recently recognised at the annual Mercers' awards for their contributions to developing sport in youth clubs.
These awards are all about encouraging young people to participate in and develop a lifelong love of sport.  The winners were selected by a panel of judges because of their work developing young people as community sport leaders.
Sophie Manzi from Streatham Youth & Community Trust who is 19 received the first placed award. Her nomiee said "Sophie bought all the skills she had learnt back into the club and passed them on to our junior members. It's not just the girls Sophie inspires; it's also the male members, the staff team and myself."
Have your say on sports in Lambeth
Feeling inspired? As part of this work, we'd like your views on Lambeth's first Physical Activity and Sports Strategy (we've called it Active Lambeth), which includes plans for new investment in sports buildings and facilities.
This is part of the Cultural Services by 2020 consultation, which runs until Friday 24 April 2015. The consultation also includes proposals for libraries and archives, parks and events, as well as arts and heritage.
How to have your say