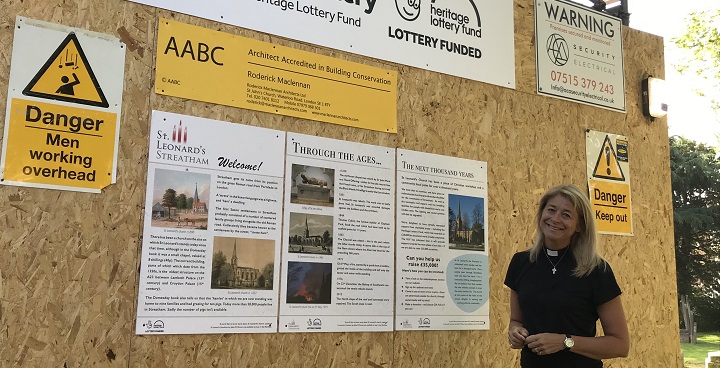 Five more funders have pledged to add to the Heritage Lottery Fund's support for St Leonard's Church, Streatham. Work can now start on making restoration a reality for this historic and beautiful church – where both Dr Johnson and Jane Austen visited.
Standing at the heart
Canon Anna Norman-Walker, rector at St Leonard's, said: "St Leonard's has stood at the heart of the community in Streatham for centuries. It's a glorious space for worship and for quiet contemplation, but through this redevelopment it can also serve the wider community.
Community centre
"We already host regular 'Mindful Movement' classes. Streatham Choral Society are based at St Leonard's and schools use the building. We work among older people as well as toddlers and their carers. We plan to host Hamlet in partnership with Streatham Theatre. As our facilities get improved and updated, there will be opportunities to reach an even wider range of people and strengthen the life of this great community."
Restoration
Lambeth Council helped with practical advice about the maintenance and upkeep of church and grounds, and in recommending potential funders for a community heritage project. The restoration aims to make the building watertight and make key entry points more accessible with ramps and disabled toilets. Improved lighting, sound and catering are part of the long-term plan, so the church can meet modern community expectations.
A place for people
Canon Norman-Walker says: "I'm delighted that we not only reached our fundraising goal, we broke through, ensuring that this unique space will serve a local community that's short of good places to work and celebrate together. St Leonard's has been welcoming the community for 1,000 years and can now continue for years to come. I'd like to thank all who helped organise the fundraising and everyone who gave so generously."
---
The pledges:
Funds for a new kitchen for the church – Garfield Weston Foundation
New toilets and improved disabled access – Veolia
Roof repairs – National Churches Trust
Roof repairs and internal updates – Beatrice Laing Trust
Funding to further outreach to the local community – All Churches Trust.