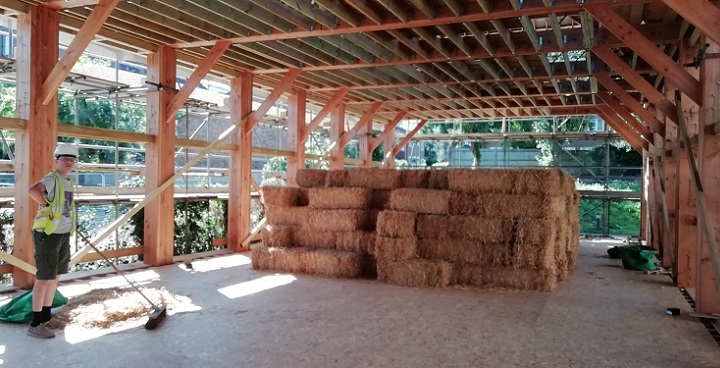 Tulse Hill's new community centre will be the largest urban straw-bale self-build in Europe, and one of few such buildings worldwide – but hopefully, building with materials and styles right for the climate emergency will inspire others.
 Building big
This year, Strawbale plans to complete the shell with Crowdfunder donations for essential materials creating a real sense of ownership. They set a target of £10,000 to buy English timber and 99% recycled plastic roof slates, and in April successfully reached £10,644 with 58 supporters in 154 days. Lambeth Council pledged £5,000, so extra money can help fund the greenest ways to build strong floors.
Construction training
The crowdfunder message was you're helping a project that will help lots of other people now, and in the future.  With hundreds involved building hands-on with green materials, environmental education is built in. The building work includes work experience for young people training in construction at South Thames College, and volunteers of all ages. A girls' lunchtime building club from the neighbouring secondary school, St Martin's Academy helps make 60% of the volunteer work force female. Emily, age 13, from St Martin's Academy Building Club, said: "I want to walk past that building with my grandchildren and say 'I built part of that."
More information
Crowdfund Lambeth is a platform to support community projects making our borough a unique place to live, work, learn and do business. The project must demonstrate that it has strong local support shown through a vibrant crowdfunding campaign. To be considered for match-funding from Lambeth Council, the project will need to meet some simple criteria and must contribute to one or more of the borough plan priorities:
Sustainable growth: a growing economy that everyone benefits from.
Resilient communities: communities that are thriving and connected.
Promote care and independence: people have support to live well and independently.
Place: Make Lambeth a place people want to live, work and invest.
If you have a project or initiative and want to find if you're eligible for match-funding, you can see our criteria and apply online