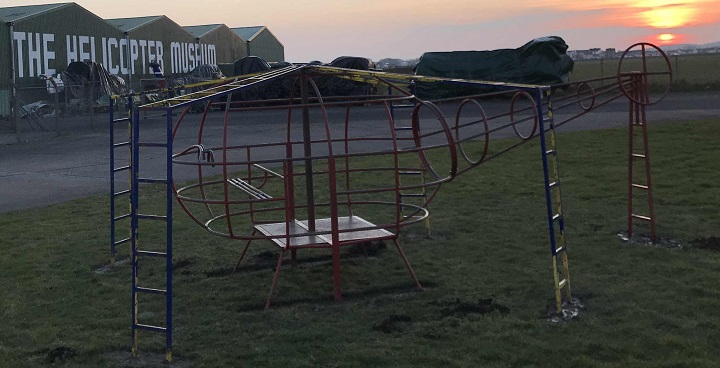 In January 2017 we learned of the playground regeneration plans for Streatham Common and the proposal to replace all the metal children's play equipment. Kevin Crook of Lambeth Council's Parks Team confirmed it could be removed just before the main playground contractors arrived to start renovating the site around September 2017 and Streatham Common Co-op could have it to raise funds for the Common.
Attempted take-off
I found a private buyer and organised a small volunteer team to carefully remove the helicopter and store it in the Rookery barn. The day before we were due to deliver to its new owner in Sussex, the flatbed truck broke down. The buyer used not being able to deliver on time as a reason to totally pull out of the deal.
A new home
So, I focused my efforts to find a new home within the helicopter community. I learned that the helicopter museum in Weston-Super-Mare were busy fundraising for their new café and playground project. After many emails, we made a deal in December 2017.
A dramatic delivery
In late February 2018 (we hoped the ground wouldn't still be frozen by then) we delivered and installed it to its final destination. Our 300 mile round trip became even more challenging when we found that only one of the volunteers was licensed to drive the rented vehicle (for reasons we still don't really understand, as we all have identical licenses) and that our massive vehicle was fitted with a 50mph limiter. We arrived at 4pm with only an hour of daylight left.
Volunteers rewarded
We rapidly commenced digging our own helicopter's ground foundations. Amazingly in one and half hours we're done! This much loved helicopter climbing frame is now in pride of place at its new and final home. We were able to generate £2,000 in fundraising for Friends of Streatham Common. All the help to remove the helicopter from Streatham Common's playground, to store it, and to then drive, deliver and install at the helicopter museum was undertaken by SCCoop / FOSC volunteers and locals.
---
For more information