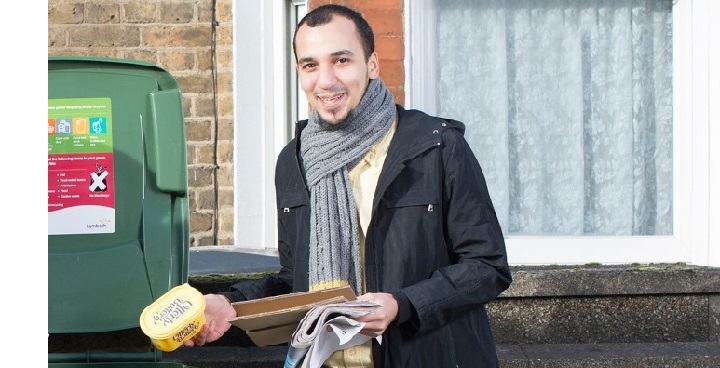 In the final programme of Blue Planet II, David Attenborough said:
"Never before have we had such an awareness of what we're doing to the planet. And never before have we had the power to do something about it".
How plastic impacts on the oceans
In the most watched TV programme of 2017, he raised awareness of the damage plastic has on the global environment. We watched an albatross parent feeding it to hungry chicks, a whale carrying her newborn calf, poisoned by plastic in her milk, and a turtle caught in a plastic bag.
Lambeth's local action on plastic
Cutting the use of plastic bags is exactly the message we would like to deliver local residents and businesses this Christmas. There is so much rubbish and waste at Christmas. As a local community we wish to share an important reminder to all residents across Lambeth and the capital to consider plastic-free decorations this Christmas.
Don't use non-recyclable plastics
Plastic or foil coated wrapping paper, sticky tape, glittery paper, ribbons and bows cannot be recycled. We would also like people to reconsider the use of glitter or reducing its use. As a ubiquitous micro-plastic, glitter easily finds its way into our waterways; streams, ponds and rivers across this country and oceans.
What to use instead
Instead, traditional gift paper that does not have a metallic or plastic-coated finish or flashy hologram effects are useful alternatives. They can be recycled and should be placed in the green recycling bins. But remember to remove any sticky tape, bows and ribbons.
Oval Quarter Street Champions wishes our friends in Lambeth a merry festive season and a cleaner, greener New Year.
---
For more information
Lambeth Street Champions Street champions are everywhere. They're the people who check on elderly neighbours when the weather's cold; who take parcels in when you're out; who care about their street and want it to be a clean, safe and neighbourly place. If you are one of these people, the council can help you make your community spirit go even further. See our information pages for more details, what street champions have achieved, and how you can too.