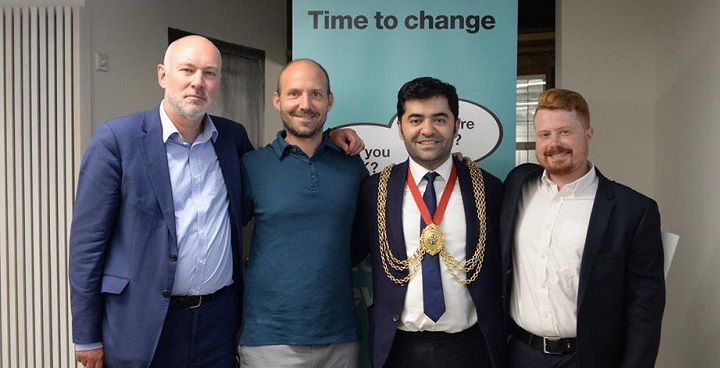 Cllr Joshua Lindsey took on the role of Lambeth Council's lead Suicide Prevention Champion in Autumn 2019. "I want to encourage local businesses and volunteers to have their own champions – for every organisation to get someone trained in understanding how to have lifesaving conversations and share that with co-workers. The council is working to make Lambeth a leading borough in a zero suicide city.
Teaching champions
"We're inviting people to free face-to-face training from the charity Papyrus. We've organised sessions for front-line staff in volunteer organisations, and we're working with Lambeth's LGBT+ organisations to host training for the community who've been identified as one of the most at-risk groups.
Good communication
"Nationally, suicide is the biggest cause of death in young men up to age 35. In Lambeth, middle-aged men are also at high risk. We're already supporting and focusing on initiatives to develop good communication in men's emotional health and their ability to ask for help. One example is Tony Cealy's drama workshop group, where men drew on their own experiences to create and perform a play "What is killing black men?". In February, as part of national time to talk day, Colourful radio will broadcast extracts and Lambeth libraries will host repeat performances by popular demand.
Priority issues
"Black mental health is also a priority. Black Cultural Archives hosted a November exhibition on mental health and black masculinity, and we are working with Black Thrive on a project on issues for black men, including those in the LGBTQ community.
Involving everyone
"And for anyone and everyone who wants to help save lives, we're putting out links for the Zero suicide alliance 20 minute online free training.  Lambeth businesses and volunteer organisations are sharing it. The Mayor of London hopes to to get 100,000 people in London to take the training by September 2020 – we want at least 6,000 of them to be in Lambeth. It takes only 20 minutes and helps you identify possible suicidal behaviour, to speak out in a supportive manner and empowers you to signpost someone to services or support. Save a life, take the training. https://www.thriveldn.co.uk/campaigns/zerosuicideldn/
More information
If you would like to work with Lambeth's suicide prevention partnership as a champion, or to promote men's emotional health and help-seeking in Lambeth please contact JLindsey@lambeth.gov.uk or Sabrar@lambeth.gov.uk