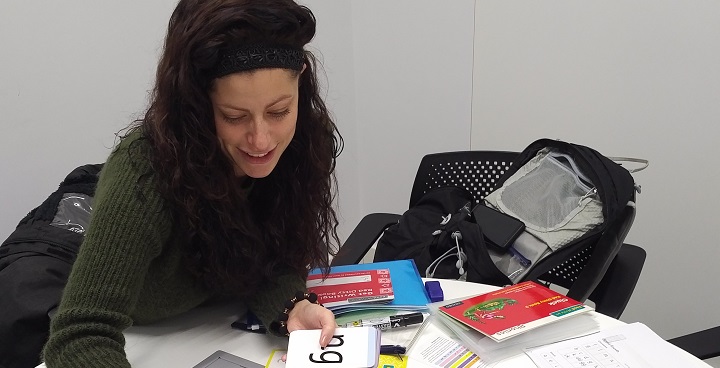 Workwise – the partnership between St Mungo's homelessness charity and Lambeth –  are trying out a new support scheme to help Lambeth residents with little or no experience of reading and writing English. This is to support those looking for work so that they can reduce the risk of homelessness as a result of benefit changes. A Clapham primary school teacher has volunteered to lead the lessons.
Finding a teacher
Lionel Ighodaro from Workwise says: "If people looking for work tell us they need help, we can help school leavers find training, but we just couldn't find any provision for people over 30 to learn English."
Learning the lesson
Clapham primary teacher Sian explains: "I'd got back from a year's travelling, and put an advert out about helping children with phonics before I started my new job. I'd never taught adults before and I was worried that the teaching materials might seem patronising. But actually the pictures really help."
Star pupil
Sian's first student speaks English well, but hadn't learned to read or write it before coming to live and work in Lambeth. The eldest of her four children is just secondary school age – too young for helping with all the letters and forms in a job search.  Mum wants to change that so she's the one helping her children, as well being able to write things down, for example menus if she gets a job as a dinner lady.
Learning success doesn't stop with school
Sian says: "She's already moved on from reading cards to reading books. This is why I became a teacher, to see the success of someone doing well, learning something new.  I'd love it if Workwise can develop the scheme, perhaps get sponsorship. I could help train retired teachers to teach adults using the ReadWrite system, so it's truly cross-generational. Working with Workwise has opened my eyes – I realise that learning success doesn't stop with school!"
For more information
St Mungo's is a charity and housing association working directly every day with people who are sleeping rough, in hostels and at risk of homelessness. From supporting people away from rough sleeping, through to helping people rebuild their lives and fulfil their hopes and ambitions, we're here for every step of the journey away from homelessness. See our news and information pages.