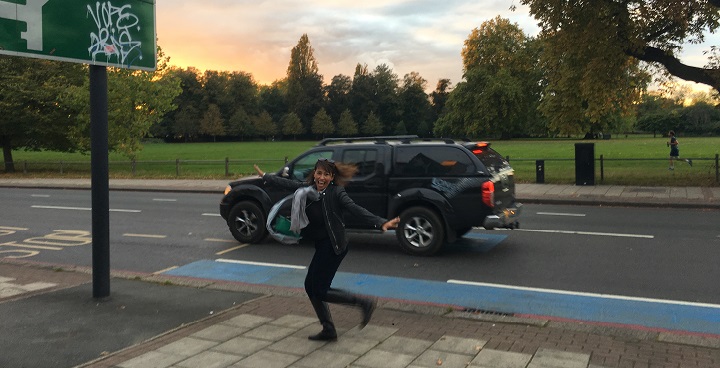 Many Lambeth residents are already supporting their communities during the challenging time of Coronavirus (COVID-19). Volunteering with Team Lambeth means our local NHS partners and the community and voluntary sector can always count on help to support vulnerable people and community organisations.
Skills for the community
Ro is the 1,500th Lambeth resident to volunteer for Team Lambeth and wants to put her skills into practice to help the community: "I enjoy outdoors activities, but also organising, coaching, etc. I also speak Spanish, so helping the Latino community would be amazing.
Life in Lambeth
"I've lived in Lambeth since 2016. I live with my partner, we've no children. We found a new flat that we love in Clapham, and rent is a bit more affordable than London Bridge where we lived before. The convenience of living so close to the Underground, I think that's our favourite thing. We also love being close to Clapham Common and the restaurants in Clapham Old Town.
Give back today
"I'm self-employed. and work as an IT Project Delivery Manager. My contract with my client terminated due to Covid, so now I have time to give back to my community. My mantra has always been 'hoy por ti, mañana por mi' (today for you, tomorrow for me). I enjoy helping others, from cleaning churches' gardens, teaching basic computer classes to adults, or helping at the reception desk or admin tasks needed by small charity organisations. Four years ago, I helped a small charity with the delivery of a social programme to promote awareness and education of cyberbullying.
Volunteer efforts pay off
"When you're volunteering, the success of achieving the goal of the charity or the fundraiser is a good measure, but when people residents are the recipients, seeing them happy or thankful of receiving help, that's when you know your volunteer efforts have paid off."
Word from the Cabinet
Cllr Donatus Anyanwu, Lambeth Cabinet Member for the Voluntary Sector, said "The Coronavirus pandemic has highlighted the essential work that volunteers have always done in Lambeth, as well as inspiring many more to come forward. I would like to thank all Team Lambeth volunteers for stepping up and helping others in their local community."
If you're interested in volunteering with Team Lambeth
Apply online. This form is to collect your contact details and to find out about the kind of help you can offer in your community. This information may be shared with partners we are working with as part of our response to coronavirus.