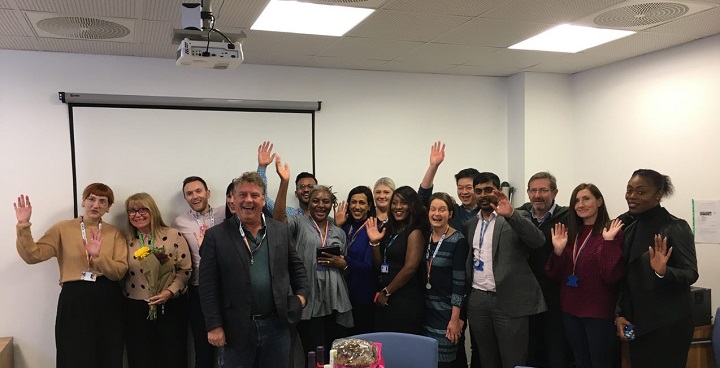 On Thursday 14 November Clapham Family Practice were awarded the first GOLD Pride in Practice award in Lambeth.
Pride in Practice
Pride in Practice is a quality assurance and social prescribing programme delivered by the LGBT Foundation that strengthens and develops Primary Care Services' relationships with lesbian, gay, bisexual and trans (LGBT) patients.
Commitment to excellence
The Gold award recognises the Practice's ongoing commitment to excellence in LGBT healthcare and the hard work of all the staff at the Practice and the team at the LGBT Foundation. This is a hugely significant milestone for LGBT Health in Lambeth, and indeed in primary care across London, which sets a great example to GP practices in Lambeth to follow suit and reach the same standards for their own LGBT patients.
Word from the LGBT Foundation 
The LGBT Foundation's Pride in Practice Team said "It's been an absolute pleasure having Clapham Family Practice take part in Pride in Practice. It was clear from our first meeting that they have a strong commitment to health equity and engagement with the communities they serve and they've very quickly embedded learning from our training into their work and made changes which led to them being awarded Gold. They also continue to access us for ongoing support; ensuring staff have the resources they need to best support their LGBT patients".
Practical steps
Some positive practical steps the practice made as a result of the training and support include:
updating policies to be more LGBT inclusive
refreshing their website to include information on health screenings specific to trans people who might otherwise be missed by automatic systems
nominating a GP LGBT Staff Champion
changing their intake forms to include sexual orientation and trans status monitoring
displaying LGBT-related health posters in the waiting room but also in the individual clinical rooms whilst staff wear rainbow lanyards
Positive experience
One GPs said: " Taking part in Pride in Practice gave us the opportunity to reflect not only on the good work we are already doing but the areas where we needed to improve, and do better for our LGBT patients. LGBT Foundation are fantastic to work with and every GP practice in the country should engage with them as it has been an entirely positive experience.!
Word from NHS Lambeth CCG
At the event Dr Adrian McLachlan, Chair of NHS Lambeth CCG and GP at neighbouring Hetherington Group Practice, highlighted the achievement and the need to continue the Pride in Practice programme to improve care for all LGBT patients across the borough.
For more information
Pride in Practice is one element of the council's Public Health-led whole systems approach to addressing the inequalities experienced by LGBT residents in Lambeth.