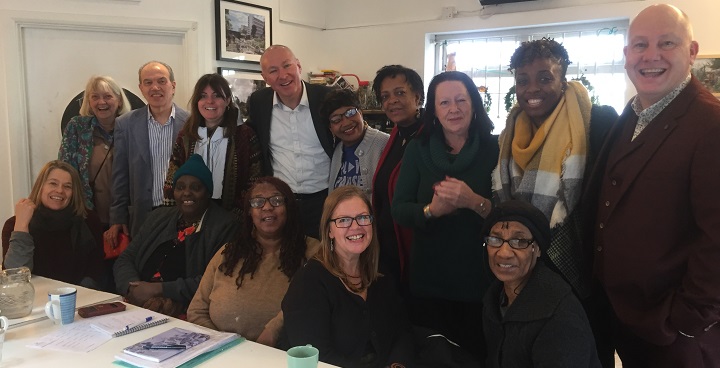 Community Connectors help create a social support safety net to help people feel better about their wellbeing and where they live.
Training and support
Community Connectors get training in skills they need to talk to people about wellbeing, what they can do for themselves, and where to go for help and support. The training is designed to enable people who already volunteer to develop new skills that complement what they do. The next course starts on 18 January.
Word from the Council
Cllr Jim Dickson, Cabinet member for Cabinet Member for Healthier and Stronger Communities, said:
"This is an excellent scheme and I'd encourage those who can to get involved. The feedback from those who have taken part to date has been really positive, and the knock on benefits for the wider community are considerable." (photo shows Cllr Dickson with Community Connectors in Loughborough Junction's Platform cafe)
What Community Connector trainees say
"I've improved my communication, listening, and cultural identity skills. I met nice people on the course." – Tony SW9
"The training was eye-opening, completely different from the norm. It's very well-delivered – you actually remember key points you've discussed – in a comfortable setting of peers. I will definitely recommend this training to people I believe would truly benefit." – June SW9
Training days
You need to attend all four days' training, so please think about dates you can do this when you apply.
Day 1 (Jan 18): About the programme, how you could be a Community Connector, and what services are available.
Days 2 & 3 (29 & 30 January): Wellbeing, health and behaviour change, with the opportunity to gain a qualification: Level 2 in Understanding Behaviour Change, from the Royal Society of Public Health (RSPH).
Day 4 (9 February) Putting things into practice and fitting being a Community Connector into your life.
The training sessions are 9.30am – 3pm, at different locations.
Who can apply?
People aged 18 and over who live in any part of Lambeth can apply for Community Connector training, with priority for those in the eight Project Smith wards.
"Being a community connector has given me the knowledge and confidence to build relationships and promote health and wellbeing within the community" – Dena SW16
---
For more information
To find out more about Community Connectors training please email: f.serle@nhs.net  or tel: 07720 601048