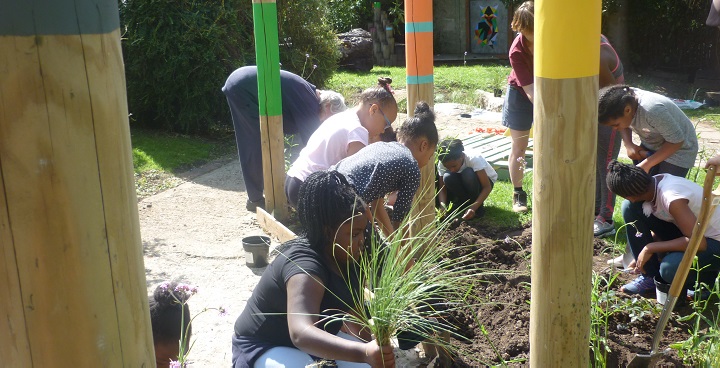 Air and watering
People had to go to the old airing rooms, take out a big roll of watering hose – and attach it to the tap 20 to 30 yards away from the Children's Garden on the Brockwell Park side. Helen, who took on most of the watering work, is really quite petite so it was a challenge. It was difficult because there are only two keys to the airing room. Some people would carry down watering cans to help.
It used to be an unused allotment where young people came for lessons about plants, and I believe the name 'children's garden' stuck. We've got a new teaching programme based around the Tulse Hill polytunnel, where Vinnie the botanist explains what the plants are, how to care for them and what they can be used for.
Tuning up Harmony Garden
We've also had very recent improvements to the community's other garden – the Harmony Garden. With the support of Lambeth's estate Pride Team, Social enterprise Urban Growth came along to plan some changes. They said "it's a great space that needs a bit of help". They made proposals to make the layout better and safer to grow in, like taking out some uneven paving slabs. We held a community planting day on the August Bank Holiday, with kids who'd been part of the estate's summer programme and other volunteers digging and painting the shed.
Grow it together
We've spread the message to residents that's a space for children and adults to share. And not just different generations – we had British, Caribbean and Middle Eastern people working together. We've got plans for more to bring the community together. This year was the first time we had Islamic children on our coach trip to Southend. We want to do something to bring the different churches together and mix together people of different faiths.
We're all local, and we all want to enjoy our lives. It won't happen overnight, but – like a garden – it will grow.
For more information
Urban Growth are co-ordinating all the Edible Living food-growing schemes on Lambeth estates and advising on garden designs to create more user-friendly spaces for the local community. For more information about their training courses and garden plans, see their information pages
For more about community activities on Tulse Hill Estate, contact Tulse Hill Estate TRA <tulsehillestate@yahoo.co.uk>