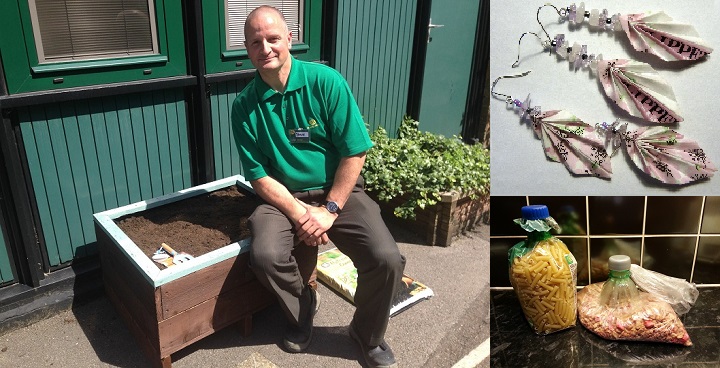 A couple of months ago we published an article about Orsetta, one of our Do The Right Thing champions, who has created shopping bags out of broken umbrella fabric, earrings from discarded packaging and much more.
Since then we've been hearing about how others have been creating useful items from things that would otherwise have been thrown out.
Planters made from old wood
Steve Higgins, manager at Streatham Morrisons, created these great planters for students at St Andrews school to use to grow vegetables. Steve used old timber pallets from his store, as well as wood from his own garden fence and shed, which had been damaged in the winter storms
Other uses for bottle tops
Bottle tops cannot be placed in your clear recycling sacks, but a lot of people have found interesting ways to reuse them. Some have been made into mosaic pictures, others have been used by children to create games.
Another interesting idea we liked is below, where the top of bottles have been carefully cut off to create bag seals.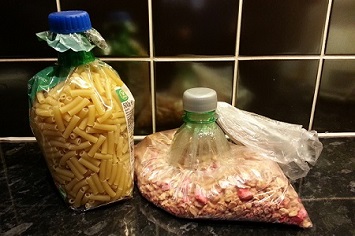 Upcycling clothing
Old clothing can be upcycled into so many things. As you can see on our Pinterest board, people have turned unwearable items into everything from bags and pillows, to quilts and organisers.
For girls aged 14-19, the Baytree Centre, with partner organisation FAD, will be running an upcycling fashion session on 6-7 August. Full details will be available soon on their Facebook page or you can email Francesca for more information.
Other ideas from around the web
Follow Lambeth Council's board What you can recycle on Pinterest.
Community upcycling workshop
The Remakery is an equipped space for making things from waste materials and their co-operative workshops are open to local residents, makers, artists and businesses. They also run a range of courses.
They are currently refurbishing new premises in Lilford Road, but you can take a sneak peek this weekend (21-22 June) at their Open Studios event, part of the Camberwell Arts Festival.
Have you upcycled an item?
If so we would love to hear from you in the comments box below or share a photo of your creations via Twitter, using hashtags #recycleweek #lambeth.
Alternatively, if you have any tips or ideas why not share them here as well?