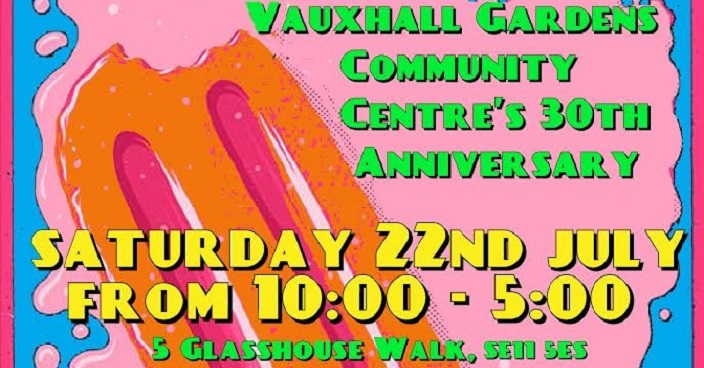 VGCC embraces the history on its doorstep.
Between the 17th and 19th centuries, people came from all over the world and every walk of life to Vauxhall Gardens. We want every experience we offer to be as pleasurable.
Back in the Day
The centre stars in pop videos, including Sidney Youngblood's 'Sit and Wait' (also featuring VGCC treasurer John Terry) and 'First Female Serial Killer' by Miss World, and briefly features in the Brad Pitt film 'Snatch' – as did local pub The Jolly Gardeners.
Memories bring partnerships
The Memory Project (in collaboration with the Vauxhall Society) was Bob Henderson's idea to gather memories about the area and how it has changed. It saw the community centre reach out to local groups, clubs and organisations, forging partnerships and making new friends.
Neon Performing Arts
VGCC is a home for Neon Performing Arts who offer shows and workshops on the day. There will be a chance of free classes for disadvantaged children. Neon also produce Flawless kids, Boadicea Lady and the Masokhi Company. Our mission is to support talented and disadvantaged children through dance and performing arts.
Bird's Eye View
Mia Bays said "We celebrate 15 years this year championing films by women. We're taking part in VGCC's 30 year celebration with a workshop on writing and producing film. We value our home in Vauxhall and care very much about the community where we are housed. We plan more from our local pop-up cinema and more workshops at VGCC.
Here's to the next years…
After the birthday party, VGCC plans to make the building more accessible and inclusive, and to ask the community what they need and want from a community centre in 2017 and going forward.
More information