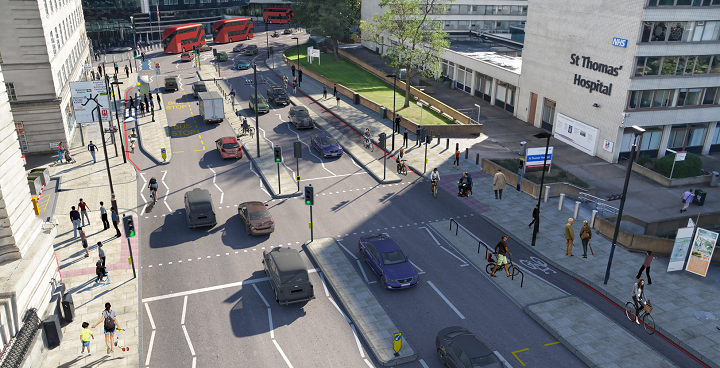 Westminster Bridge, Westminster Bridge Road, Lambeth Palace Road, Addington Street and York Road are well-used cycling routes which pass through the roundabout formed by Westminster Bridge Road, Addington Street and York Road. The roundabout is currently dominated by motor traffic and can be an intimidating place to walk and cycle.
Cycle signals and pedestrian paths
TfL is creating substantially segregated cycle lanes and dedicated cycle signals at junctions. They are also upgrading crossings, installing pedestrian countdowns, clearing footways and building a new pedestrian crossing on Westminster Bridge Road.
East -West and central connections
These improvements will create a connection between the East-West Cycle Superhighway on the north bank of the Thames and the Central London Grid on Belvedere Road and Royal Street in Lambeth.
Impact on journey times
Some temporary changes will apply during the works, so please plan ahead and allow more time for journeys through the area. At times temporary lane closures will be in place on:
Westminster Bridge Road
Lambeth Palace Road
York Road
Addington Street
Plan ahead
All customers are advised to plan ahead and allow more time to complete their journeys, especially when travelling during the peaks (7am to 9am and 4.30 pm to 7:30 pm on weekdays, and 10am to  7pm at weekends) or to consider alternative means of travel where possible.
---
For more information
For more details about the scheme and travel advice for Westminster Bridge and the surrounding area, please visit the Westminster Bridge page on the TFL website
For the latest information on how all London's roads are operating, check the TFL traffic news online before you travel at  and follow the road traffic news service on Twitter for the latest updates.
For live information on how your bus is running, check online for bus service updates or follow TfL bus alerts on Twitter.